---

ABOUT THE STRIP
SUPEROSITY is a comic strip published 7 days a week in full color on the World Wide Web at www.superosity.com. The strip is written and drawn by Chris Crosby, and digitally colored by Teri Crosby, Chris' mom. It focuses on an idiot who wears a cape for no apparent reason (Chris), a scheming teenager (Bobby), a cocker spaniel dog (Giz), a mini-mart clerk (Barton), a punk turtle (Snap), a super-intelligent board-shaped creature (Boardy), and the apartment building they share (Super City Apartments). It has been described by some as a cross between BLOOM COUNTY and THE SIMPSONS. The strip has nothing to do with superheroes or superheroics of any kind, despite the title and the capes. SUPEROSITY debuted on March 1, 1999.
ABOUT THE CARTOONIST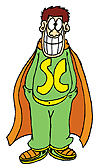 Chris Crosby was born on September 15, 1977 in Arcadia, California, and began to draw cartoons shortly thereafter.
Though newspaper-style comic strips of the humorous variety is what he loves to do best, he began working as a professional in the comic book industry in 1993, doing writing and drawing for many profitable comic book publications. Most of his comic book work has been on parody titles from Blatant Comics, including the best-selling SLOTH PARK comics. He and his creations have also been associated with publishers like CFD Productions, Crusade Entertainment, Didactic Chocolate Press, Image Comics, and more. He also did album cover art featuring just about every SUPEROSITY character for "A Lil Somethin' For The Kids," a ska music compilation from Fevered Pitch Records.
Chris began work on the strip that would become SUPEROSITY sometime in 1987, and since then the strip has gone through many different titles (though the basics have always stayed the same). In January of 1998, he launched his first foray into webcomics with a semi-weekly comic strip called SNAP THE PUNK TURTLE (with the focus on the Snap character now featured in SUPEROSITY), created for the popular comic book site AnotherUniverse.com. In late 1998, inspired by the success of many daily webcomics, he decided to launch the daily strip he's wanted to do since he was ten years old... the strip he now calls SUPEROSITY. After months of planning and procrastination, it premiered on the web March 1st, 1999 to the delight of surprisingly many and the horror of surprisingly few.
In early 2000, Chris founded Keenspot Entertainment, and currently serves as their Co-CEO. He is single, and he currently resides somewhere near Los Angeles, California.
---