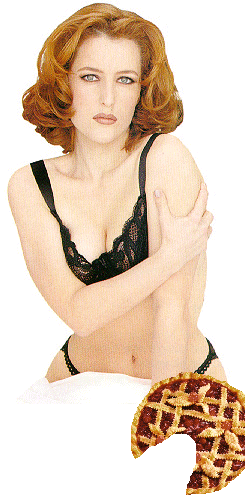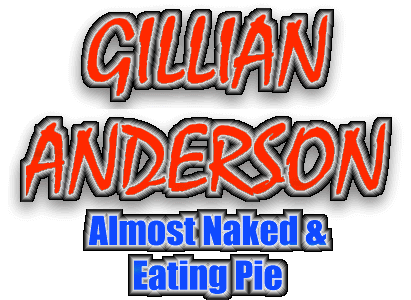 Welcome to the official homepage of Almost Naked Gillian Anderson Eating Pie! Gillian Anderson is my favorite actress, and I just adore pie, so I thought I would combine the two for the purposes of pure happiness on my part by creating the website you see before you. Maybe you will like it too, eh? I have gotten e-mail from people the world over saying they love my pictures of Gillian eating pie, and I would have to agree with them.
THE BIG QUESTION: Does Ms. Anderson REALLY eat pie? There is very little evidence to support this. However, there is also very little evidence to the contrary. Therefore, I will choose to believe that Gillian Anderson regularly eats and enjoys pie. But not TOO MUCH. She must savor the pie, as I do.
And yes, I know it doesn't look like she's actually EATING the pie in the photos, but I think the pie is in her mouth. And yes, pie can float in mid-air with the help of Ms. Anderson. There are no actual nude pics of Ms. Anderson on this site, don't ask for any. She would never eat pie in the nude.
Whatever the case, I hope you enjoy the pictures of Ms. Anderson eating pie that I have created with the help of photos of her I found on the internet, and a photo of cherry pie. Cherry pie is my favorite pie, and I wouldn't want to make Ms. Anderson eat another pie. However, you can make Gillian eat whatever pie you like! Send your pictures to me at KeenSupreme@xoommail.com and I will put them up on my page with credit, making you famous world wide!