THE HAPS
45...
September 15, 2022
45 years and counting of yours truly! And hey, a webcomic I created (not this one, sadly!) was optioned for TV! Follow me on Twitter for updates!

YEAR TWENTY-THREE ENDS, YEAR TWENTY-FOUR BEGINS.
March 1, 2022
Happy 23rd anniversary, Superositites! That's a maddening 8,401 strips and counting! But are we any closer to a SUPEROSITY animated TV series happening? NO... BUT my company is co-producing animated TV serieses now, so maybe SOMEDAY? Read about our first one in VARIETY.

44...
September 15, 2021
44 years and counting of yours truly! To be continued... (Remember to follow me on Twitter!)

YEAR TWENTY-TWO ENDS, YEAR TWENTY-THREE BEGINS.
March 1, 2021
Happy 22nd anniversary, Superositites! That's an insane 8,036 strips and counting! Will we hit 10,000? Probably!

43...
September 15, 2020
43 years and counting of yours truly! The adventure continues. (Remember to go see MARRY ME in theaters everywhere Valentine's Day 2022!)

YEAR TWENTY-ONE ENDS, YEAR TWENTY-TWO BEGINS.
March 1, 2020
Happy 21st anniversary, Superositites! That's a whopping 7,671 strips and counting! So, how have YOU been doing this past 21 years? E-Mail me at superosity@keenspot.com and let me know!

42...
September 15, 2019
42 years and counting of yours truly! So weird. (Trillionaires: click here.)

YEAR TWENTY ENDS, YEAR TWENTY-ONE BEGINS.
March 1, 2019
Happy 20th anniversary, Superositites! Can you believe it? Holy wow, 20 years and 7,306 strips. That's nutso. If you feel like being a real weird person and celebrating this, you can go out and buy a cringe-inducingly stupid parody comic book called FARTNITE on March 6th. I had a hand in creating it, and there's even a 3-page 20th anniversary tribute to SUPEROSITY in the back. The backside of a comic book called FARTNITE is surely the most fitting place for a 20th anniversary celebration of this little comic strip. If your local comic shop doesn't carry it, you can order it online RIGHT HERE.

THEY SAY IT'S MY BIRTHDAY!
September 15, 2018
41 years and counting of yours truly! If you want to give me a birthday gift of a large sum of cash money every month, click here.

WAS TOO SICK TO DRAW! NOW FEELING BETTER AND I'M BACK!
June 26, 2018
Sorry for the missed strips (but thank you for noticing)! Been really sick since Saturday, but I'm mostly better now and I'm gonna try to do two strips a day until I'm caught up.

YEAR NINETEEN ENDS, YEAR TWENTY BEGINS.
March 1, 2018
Happy 19th anniversary, Superositites! Today's strip is #6,941... less than 60 strips to go until the big #7,000! In your country, how do you celebrate 7,000 SUPEROSITY comic strips? Let me know on Twitter (@chriscrosby)!

TRUST EVERYONE OVER 40!
September 15, 2017
We're impossibly wise. (Billionaires: click here.)

YEAR EIGHTEEN ENDS, YEAR NINETEEN BEGINS.
March 1, 2017
Happy 18th anniversary, Superositites! Today's strip is #6,576. Have you accidentally discovered the password to OUR universe yet? If so, E-Mail me and let me know! I could really use it.

I SAY IT'S MY BIRTHDAY YET AGAIN!
September 15, 2016
39 years and counting of yours truly! Because it's 2016, why don't you put some of your money into my bank account via the wonders of Patreon?

YEAR SEVENTEEN ENDS, YEAR EIGHTEEN BEGINS.
March 1, 2016
Happy 17th anniversary, Superositites! Today's strip is #6,211. Hey, have you heard about my Patreon? I hope not, because it's very embarrassing! But if it helps me find that one generous multi-millionaire I just KNOW is reading and mildly enjoying my work, it'll all be worth it. Fingers crossed!

I FORGOT TO WISH YOU A HAPPY NEW YEAR, SO INSTEAD I WILL ASK YOU FOR AN OBSCENE AMOUNT OF MONEY.
January 6, 2016
Yes, because one person kinda suggested that I should do it, I made a Patreon. If you read SUPEROSITY and are also super-rich, click here and prove me right once and for all. (You MUST be a fan if you're reading this, the section of the site that is updated like twice a year!)

I SAY IT'S MY BIRTHDAY AGAIN!
September 15, 2015
38 years and counting of yours truly! To those who care, thanks for the birthday wishes I'm already seeing on Facebook, a popular website designed specifically for posting birthday greetings to friends and associates.

YEAR SIXTEEN ENDS, YEAR SEVENTEEN BEGINS.
March 1, 2015
Happy 16th anniversary, Superositites! Time sure does fly, don't it? Seems like just yesterday I was drawing the first SUPEROSITY strip and thinking "boy, once I'm in the 17th year of this daily comic I'll have had so much practice drawing that the artwork will be SPECTACULAR!" And boy, was I sure right, as you can see from the beautiful linework displayed in today's masterwork. Today's strip, incidentally, is #5,845. Almost to #6,000! Won't that be... a lot of comic strips? I certainly think so.

MY BIRTHDAY YET AGAIN!
September 15, 2014
37 years and counting of yours truly! Thanks for all the nice birthday wishes I'm seeing on my Facebook page, as is the custom of this era in time.

YEAR FIFTEEN ENDS, YEAR SIXTEEN BEGINS.
March 1, 2014
Happy 15th anniversary, Superositites! Today's strip is #5,480. I hope all of your SUPEROSITY 15th anniversary celebrations go spectacularly. Party responsibly, please.

I SAY IT'S MY BIRTHDAY!
September 15, 2013
36 years and counting of the guy who still brings you this daily full color comic strip against all odds! I would like to update The Haps more often, but as an executive of a publicly-traded company, everything I do is totally super-secret lest our competitors steal our secret formula. All I can do is report my birthdays and anniversaries. Sorry! But hey, why not wish me a happy birthday on my Facebook page? All the cool people are doing it...

YEAR FOURTEEN ENDS, YEAR FIFTEEN BEGINS.
March 1, 2013
Happy 14th anniversary, Superositites! Today's strip is #5,115. Can you believe I didn't make a big deal of strip #5,000? That's probably because I had to be informed I had hit #5,000 by little brother Bobby a week after it happened! Too bad, you all could've held SUPEROSITY #5,000 parties all over the world in honor of it.

(I hope I gave you all enough advance warning to plan your elaborate SUPEROSITY 14th anniversary parties. If not, start planning for your SUPEROSITY 15th anniversary parties now!)

HAPPY BIRTHDAY TO ME!
September 15, 2012
35 years and counting of yours truly! I am sorry I only update this section on anniversaries and birthdays now. If you want it updated more often, tell me on Twitter! Or don't and I will attempt to guess your feelings on this subject.

YEAR THIRTEEN ENDS, YEAR FOURTEEN BEGINS.
March 1, 2012
Happy 13th anniversary, Superositites! Can you believe this little comic strip of mine is a TEENAGER now? That's frightening. (For those who care about such things, today's strip is #4,750.)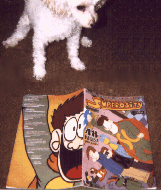 IT'S MY BIRTHDAY AGAIN...
September 15, 2011
34 years and counting. Thank you for all of your kind birthday wishes on Facebook and Twitter.
On a not-at-all-happy note, yesterday I was forced to say goodbye to my best doggie pal, Dodger Blue. She lived to the ripe old age of 15 (I think that's something approaching George Burns age in dog years), and was by my side as I drew every single SUPEROSITY strip until today's. She was usually barking at me to go to sleep, as I draw this thing way too late at night. I miss her already.
(The photo beside this post features Dodger at age 5 or so, staring curiously at the first issue of the short-lived SUPEROSITY comic book series. )
FROM GAY TO GIDDY
September 9, 2011
For reasons that appear to make some amount of sense, the wonderful SUPEROSITY fan-blog formerly known as SUPEROSITY MAKES ME GAY has title-changed to SUPEROSITY MAKES ME GIDDY. The new URL is superositymakesmegiddy.blogspot.com. Update your internet book-mark hot-links accordingly!
YEAR TWELVE ENDS, YEAR THIRTEEN BEGINS.
March 1, 2011
Happy 12th anniversary, Superositites! For those who care about such things, today's strip is #4,384. If the thing on the internet that tells the exact duration between two dates is correct. Here's hopin'! (TWELVE YEARS! Madness!)
BARK IF YOU LIKE ADVENTURES IN THE WHITE HOUSE!
November 12, 2010
In case you haven't been following everything I do religiously, please check out BARKER and THE FIRST DAUGHTER, two new-ish comics I'm involved in the creation of!
IT'S MY BIRTHDAY!
September 15, 2010
33 years and counting of yours truly! Instead of buying me a present like you normally do, why don't you buy something nice for yourself? Oh, and follow me on Twitter for no reason.
WEDDINGOSITY!
May 16, 2010
They've been pronounced man and wife, but the wedding of Chris and Arcadia has only just begun! Here's an HD version of today's strip for those of you with poor eyesight. (Sorry, the internet was a lot smaller when we started back in 1999.)
YEAR ELEVEN ENDS, YEAR TWELVE BEGINS.
March 1, 2010
Happy 11th anniversary, Superositites! Year Twelve is finally here and may just be quite magical! For those few not keeping count, today is strip #4,019. (And yes, I totally neglected to note when we hit landmark strip #4,000. I hope you can all forgive me one day.)
CELEBRATE THE 10TH ANNIVERSARY OF STUPID CRAP!
December 8, 2009
Almost exactly one decade ago, young Chris Crosby and his teenage brother Bobby slaved away producing our very first Flash short, a little gem of a mash-up parody called PARKEMON. It was released around the time that POKEMON: THE FIRST MOVIE was taking theaters by storm and coincidentally a week or so before SOUTH PARK did their "Chinpokomon" episode. It somehow was viewed by millions of millions of people, and I still get E-Mails from people asking when the second one is coming out (probably never).
So without further ado, let's celebrate this 10th anniversary by viewing the terrible internet artifact that is PARKEMON: THE FIRST SHORT...
[CLICK HERE TO VIEW VIDEO]
(Sorry for the long eerie soundless credits sequence at the front, back then the internet was so primitive that Flash animation files needed a long intro like that to keep people interested while the animation loaded.)
I PRODUCED A DORITOS COMMERCIAL! WATCH IT AND I'LL BE YOUR BFF!
November 11, 2009
The haunting siren call of Doritos' CRASH THE SUPERBOWL 2010 contest spurred me to produce an entry, as I have always dreamed of producing a commercial to air on the Super Bowl in the hopes that it will one day be turned into an amazing movie like SPACE JAM. Please make my dream a disturbingly real reality by watching the commercial (hit the SKIP INTRO button in the bottom right of the screen to go straight to our video), and if you like it, please leave a comment saying so! Thank you kindly, BFFs.
HAPPY BIRTHDAY, ME!
September 15, 2009
32 years and counting of yours truly! In just ten short years, I'll be 42, thus gaining access to the answer to life, the universe, and everything. That'll be cool. But please, don't send me a birthday present, just follow me on Twitter. It's so hot right now, much like Hitler's appearances on THE HILLS.
TWITTEROSITY
August 9, 2009
I don't think I've mentioned here yet that I'm on Twitter. I am! Follow me and perhaps all of your dreams will come true! It will be unrelated to following me on Twitter, but still. FOLLOW!
WIKIOSITY!
June 24, 2009
The super Superositites who populate the fantastic fan blog SUPEROSITY MAKES ME GAY decided recently that Wikipedia.com alone wasn't big enough to hold the vastness that is SUPEROSITY, and so, WIKISUPEROSITY.COM was born. Yes, there is now an entire Wiki-powered site devoted to this little comic strip. And it's already off to a great start, it looks like! If you so desire, as a card-carrying Superositite you are invited to join in the fun and create and/or edit some articles over at the SUPEROSITY WIKI. There's more than ten years and nearly 4,000 strips of crazy nonsense to catalog, so the Wiki can surely use your assistance. WIKI!
YEAR TEN ENDS, YEAR ELEVEN BEGINS.
March 1, 2009
Happy 10th anniversary, Superositites! Wow, 10 years and 3,654 strips. Maybe this is the year that SUPEROSITY finally catches on? Let's hope so! Tell a friend. Wait, no, tell 10,000 friends. In honor of the 10th anniversary. Thank you in advance. I love you.
HAPPY 2009, SUPEROSITITES!
January 1, 2009
SUPEROSITY turns ten in two months' time. Wooooooo.