HAPPY MILLENNIUM!
December 31, 1999

Gosh. 2000. The year is changing, and the first two digits in it aren't "19." That's weird. Don't you think? I thought there would be a lot of strange things in the year 2000. I didn't think we've have jet packs and flying cars, because everybody knows those things don't show up until 2010 or 2015. But I did think things would be very different.
And things ARE different! The internet is changing the way we communicate and think and deliver comic strips to people. There are a bunch of successful animated series on prime time TV (remember when "Fish Police" and "Hollywood Dog" didn't take off, and everyone decided they could never ever duplicate the success of "The Simpsons"?). The President isn't named Bush (this one could change back any moment, apparently). And, thanks to the first thing I mentioned, I'm doing a daily comic strip in full color that thousands of people read and enjoy (well...they read it, anyway).
That's pretty keen. I'd like MORE thousands of readers to read my strip, because I'm incredibly greedy, but this is a good start. I can't think of anything else to write. I'm not very good at this sort of thing. I could be much more witty and touching, but that takes effort. :)
Happy new year. I love you.
DUST PUPPY POWER, THE POLL, THE STORE, AND MUCH MUCH MORE!
December 2, 1999

Wow, a lot of stuff has been happening lately. We're smack dab in the middle of a storyline guest-starring USER FRIENDLY's Dust Puppy, courtesy of his creator Illiad, which I think is pretty neat. Illiad approved every word Dust Puppy says (I even had to make a few changes to my original script), so you know you're getting top-of-the-line second-hand Puppy here. And let me tell you, DP is a lot harder to draw than he looks. All those little spikes are tough. Major props to Illiad.
We've also got a new "Favorite Character" poll, which I'm very interested in seeing the results of. We last did a poll like this way back in April (only 44 people voted, because we had barely any readers back then) and Boardy won with 30% of the vote. With all the new characters we've introduced since then, is there a new favorite, or is Boardy still your fave (I refuse to spell that word without the "e") character? That's the burning question I need to know! If you're not as interested in this as I am, you've gone quite mad!
What can I say about the Superosity Superstore? Um... please go there. And buy stuff. You need SUPEROSITY (and PARKEMON) stuff, and I need money. That's a match made in heaven. BUY BUY BUY! (And if you have a suggestion for new merchandise, please E-Mail me!) Be a good Superositite, c'mon. You can order with a credit card, for Pete's sake! No checks to write or mail to...mail. Order Slambo Asscrap stuff and confuse your friends and enemies into thinking you're hip! BUY BUY BUY!
Attention All Superositites Who Have Wroten To Me: If you've E-Mailed me recently and I haven't responded yet, you'll probably be seeing your letters right here in this space sometime soon! If not, E-Mail me again and bug me to respond (if you so desire me to)! I think you're all keen supreme, but I'm incredibly lazy. I don't even get that much E-Mail. I'm just really, really lazy. I can't help it. If you haven't written to me yet, please do! I need your love and affection desperately. It's sad, really.
TECHMALL EDITORS CHOICE, STRIP #250, HALLOWEEN...
November 7, 1999

Hi, everybody! Hope you all had a happy Halloween, enjoyed the big WebComics Halloween Crossover Event we participated in, and noticed the fact that we just hit Strip #250 a couple days ago! Did you spot any He-Mans or Orkos on the street trick-or-treating this year? If so, that means we've become a gigantic influence in the everyday lives of many people! Hurrah! But this is just the beginning. By Strip #10,000, SUPEROSITY will completely control every man, woman, and robot on the Earth AND on the moon. You heard it here first!

Hey, guess what? We won the TECHMALL EDITOR'S CHOICE AWARD for October 28, 1999. Here's Techmall's Kelly Newcomb to tell you more: "Congratulations! We here at the TechMall have chosen Superosity as one of the best, most interesting, and most useful sites on the Internet, and we'd like to honor you for your hard work. As a token of our esteem, we would like to present you with the TechMall Editor's Choice Of The Day Award. A link to your site will be displayed on our main page until tomorrow, and beyond that the URL will be stored indefinitely in our Editor's Choice archive. Thank you for entertaining our websurfers, and for delighting our readers yet to come!" Thank you, Kelly, and thanks to Techmall! Me likey Techmall! Whatever it is. I picture a big, technologically-enhanced mall that can kick other, less technologically-enhanced malls' asses. Techmall rules over all other malls. Go go Techmall!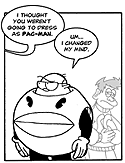 CHRIS HONORED TO APPEAR IN SCOTT KURTZ' PvP
October 23, 1999

To the delight and honor of myself and many SUPEROSITY fans, a person wearing a Halloween costume based on our own "Chris" character appeared for three panels in the background of the October 22 PvP strip by Scott Kurtz. The strip wittily referenced the October 3 edition of SUPEROSITY, a favorite of Kurtz's, in which Chris vomited for four straight panels. Check it out!
NATE W. DECLARES SUPEROSITY TO BE FUNKY-ASSED
October 7, 1999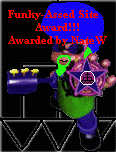 We're a Funky-Assed Site, or at least that's what it says on our new award! The Funky-Assed Site Award is presented by Nate Wyman, who had this to say: "Dude... this is one of the funniest web comic strips I've EVER read! Right up there with Goats and Red Meat! I'm going to give you my award! That's how much you rule! ;-) Rock on!" Rock on yourself, Nate, and thanks! Everybody be sure to visit Nate's neato torpedo site, located at http://www.vbe.com/~nwyman. He's got an amazing scoop on how Reggie White eats people's balls. He even ate Nate's balls! Wow. I thought only Mr. T did that. Or maybe Gary Coleman.
In other news, the STORY GUIDE, AWARDS WE GOT, and NICE THINGS SAID pages have all been updated. Rock on!
CRITICALLY-ACCLAIMED BARF
October 4, 1999

I was afraid I was going to have to publicly apologize for the October 3 Sunday strip in which Chris eats an un-"new" hot dog and lets loose what lay inside him for four straight panels. But instead, I receive a firestorm of compliments! I have proven that people love to see cartoon characters vomiting, and I am very glad. Here's a sampling of the commentary...
Phil Higgins: "Hey man, you rock! That was one of the funniest Superosities I have ever seen! Maybe it's because I'm tired from being at work all day, but simply having Bobby barf for four panels made me laugh my head off until my lungs exploded. Thanks a lot! I used to read Sluggy, and then Superosity. Thanks to the hotdog that 'wasn't new', Superosity goes first! Good job!" That was actually Chris who vomited and not Bobby, Phil, but thanks! Now that you're reading us first, maybe you'll pay more attention to character names. Scott E. Kuehner: "Now THAT'S a goddamn vomit sequence, brother! Thanks for showing me how it's done! You're gonna change the way we think about puking in comics." That was my intent, Scott, and thanks! I hope from now on we see a lot less jokes in comics about how men won't ask for directions and a lot more jokes about people vomiting.
HAPPYSHADOWS.COM SAYS WE'RE DAMN GOOD!
September 30, 1999



HappyShadows.com has declared SUPEROSITY to be "A Damn Good Webtoon," and we wouldn't dare disagree! We were chosen by webmaster Amos Edwards on the basis that the strip "kicks serious ass." Thank ye, Amos! Everybody go check out HappyShadows.com, and while you're there, take a look at the other great strips that Amos has awarded the sacred "Damn Good Webtoon" mark of excellence (some of my favorites are there).
WE'RE THE GOATS.COM STRIP OF THE WEEK!
September 27, 1999

Thanks to Jon Rosenberg for making us the GOATS.com Strip of the Week!
STORY GUIDE UPDATED, HAPPY 1st BIRTHDAY TO BOBBINS
September 21, 1999

The STORY GUIDE has been updated with the listing for "Lil' Lil' Tots." Speaking of that storyline, here's a letter I received from Amy O'Donnell of Houston, TX: "I have to ask: why dissing UPN? I kind of like UPN. They produce Star Trek! Of course, they DID manage to kill off my favorite, The Sentinel, in favor of things like "Shasta McNasty" and "Action." I guess I see your point." Thanks for the letter, Amy! I don't have anything against UPN (even though they cancelled "Home Movies," which I liked). Bobby's just a negative character, and because UPN came within his path, negativity developed in the storyline. Personally, I think the idea of a "Knight Rider Y8K" series is kinda cool. :) "Action" is a FOX series, by the way, and a very good one in my humble opinion.
Happy 1st anniversary to BOBBINS, the great "FRIENDS meets SCOOBY DOO" webstrip by Englandian John Allison. Find BOBBINS and other great webcomics at BIGPANDA.NET.
THE TWO-HUNDREDTH STRIP!
September 16, 1999

SUPEROSITY Number Two-Hundred is here! To celebrate this incredible, once-in-a-lifetime occasion... go look at yesterday's Haps column! I don't wanna type that list of stuff again. (The "copy and paste" feature is for suckers, people!)
CARTOONIST TURNS 22, BUT STILL UNSURE WHAT 'SUPEROSITY' MEANS
September 15, 1999

It's my birthday, Superositites! On this very day, September 15, 1999, I, Chris Crosby, turn 22. To celebrate the birthdate of the guy who's comics you read (i.e. me), here are a few nice things you can do.
In order of unlikelyness...1.) Buy me stuff, and send me the stuff you bought for me! Mail them to: Chris Crosby, P.O. Box 1525, Temple City, CA 91780. 2.) Draw your favorite SUPEROSITY character, and send or E-Mail it to me! 3.) If you don't visit this website regularly, subscribe to our free E-Mail delivery service! HTML Format: superosityhtml-subscribe@onelist.com or Non-HTML Format: superosity-subscribe@topica.com. 4.) Tell your friends about SUPEROSITY, and point them toward this website (I would really appreciate this)! 5.) Click on our link to the BIG PANDA TOP 100 ONLINE COMICS on a regular basis (it counts as a vote for us, and it brings you to a chart of other keen online comics).
You notice I didn't ask you to vote for us in the TOP 100 HOMEPAGES. The reasoning behind this is that I believe that the BIG PANDA TOP 100 ONLINE COMICS is superior in a variety of ways (and not just because SUPEROSITY is currently #1 on Big Panda). You can definitely still vote for me on the TOP 100 HOMEPAGES (in fact, I'd love it if you continued to vote for us there), but BIG PANDA TOP 100 is the Top 100 list that I support.
Now... GO BUY ME PRESENTS! :)
ONE-SHOT WEEK 4, BECAUSE YOU WANTED MORE!
September 7, 1999

Stand-alone gags are what what I call "One-Shots," and the 4th One-Shot Week is here! Let me know what you think of these 7 new One-Shots, E-Mail me at crosbycomics@msn.com.
Two spots down on the TOP 100 HOMEPAGES (from #27 to #29, I forgot to update you on last week when we jumped from #29 to #27). Since some websites use a clever quote or remark to get you to vote, I'll try that. Um... "Four score and seven VOTES ago, our forefathers and somesuch decided..." ...Jesus, that sucks. Feel sorry for me and VOTE VOTE VOTE!
AN ANGRY LADY IN REHAB WHO STILL KINDA HATES HER BABY BUT WHO LOVES SUPEROSITY
September 5, 1999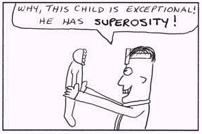 Scott & Amanda Kuehner's hilariously demented and sometimes quite disturbing comic strip series, AN ANGRY LADY IN REHAB WHO STILL KINDA HATES HER BABY (a sequel to their first series featuring that character, AN ANGRY LADY WHO HATES HER BABY), recently tipped it's hat to our own little SUPEROSITY in Strip #16. It even guest-stars DR. SHAMROCK (seen with unnamed baby in picture at left), who has his own great webcomic series by the Kuehner duo that you should also check out. PARENTAL WARNING: These comics are all suggested for mature readers, so don't look at them if you're a little kid or something. Okay? Good.
SIX MONTHS OF SUPEROSITY!
September 1, 1999

Can you believe that it's been half a year since SUPEROSITY launched? It's been so much fun, it seems like only 5 months and 19 days. Whatever the case, I'd like to thank all you wonderful readers for...reading! Here's to another 6 months, and dozens of batches of 6 months after that! In celebration of our 6 monthiversary, we'll have some nice goodies debuting throughout September, including the first SUPEROSITY T-Shirt, and more! Stay tuned...
ROCK THE VOTE, PEOPLE!
August 27, 1999

We're down another spot on the TOP 100 HOMEPAGES (from #28 to #29). If you have a spare moment, wanna vote for us? I know the chart's fairly meaningless anyway, but too much meaning in your life can lead to a crazy armpit rash or something like that. So... VOTE VOTE VOTE!
IT'S FRANK CROSBY'S BIRTHDAY!
August 25, 1999

The father of the father of SUPEROSITY, Frank Crosby, turns 54 today! Send him your birthday greetings at FACrosby@aol.com!
Oh, and happy 2nd birthday to Pete Abrams' wacky webcomic, SLUGGY FREELANCE. Don't send Pete any birthday greetings, he gets enough E-Mail already. :)
AMERICA'S FUNNIEST REALVIDEO - US ON ZDTV!
August 22, 1999

The "My Favorite Site" segment that ran on ZDTV dozens of times recently has just been posted online as a RealVideo file (use RealPlayer G2 to play it)! Go here to view it: http://www.zdnet.com/zdtv/cgi-bin/rmplay.cgi?/zd/zdtv/g2demand/interact/superosity.rm . UPDATE: If that doesn't work, go HERE, scroll down to where it talks about us, and click on the little TV icon.
CLUMPS IS BACK, AND TOP 100 CRISIS!
August 16, 1999

Cartoonist Brew McCloud is back from vacation, and so is CLUMPS & SPIKES! If you enjoy SUPEROSITY, you just might also enjoy CLUMPS. Check it out!
Okay, so it's not really a CRISIS, but we are down three more spots on the TOP 100 HOMEPAGES (from #25 to #28). Help us kick WAITING FOR BOB's drunk-with-power ass, VOTE VOTE VOTE! (Just kidding, WAITING FOR BOB. Everybody knows FUNNY FARM is the evil, evil strip to beat.)
SLIPPIN' ON THE TOP 100, CLUMPS ON HOLIDAY
August 11, 1999

Down four spots on the TOP 100 HOMEPAGES (from #21 to #25). While Superositite Ehren E. Turner had nothing to say last week, this week he wrote to complain that we spelled his name wrong last week. So I hopped into my trusty time machine and corrected the mistake. Ehren now has no memory of the incident, and a giant paradox has been created that could eventually destroy the universe at the dawn of time! I don't know why, but only VOTING for us can stop the universe from imploding! VOTE VOTE VOTE!
If you're wondering where CLUMPS & SPIKES has been the past few days, Cartoonist Brew McCloud is on a short vacation and will be back... shortly! I'll let you know when new CLUMPS start running again.
ANOTHER TOP 100 UPDATE, AFFILIATES LIST ADDED
August 6, 1999

We're up one more spot on the TOP 100 HOMEPAGES (from #22 to #21)! Superositite Ehren E. Turner offered no wisecracks regarding the advancement this week. Only you can help us rise on that wacky, crazy chart. You have the power. VOTE VOTE VOTE!
In other news, I have added a list of AFFILIATES to the site (affiliates are websites who run SUPEROSITY daily on their site with permission). It turns out we've got almost 50 of them! Do you want to be an official SUPEROSITY affiliate and have your site added to the neato torpedo AFFILIATES list? Visit ADD THE STRIP TO YOUR SITE to find out how!
CHRIS-CROSSIN' AGAIN...
August 3, 1999

The Mr. Chuck Show is holding auditions for a new sidekick, and our own Chris is applying for the job! See the "prequel" to today's SUPEROSITY comic strip, read THE MR. CHUCK SHOW FEATURING NED AND STUMPY for the week of August 2!
GAGS A PLENTY, STORIES MANY...
August 2, 1999

It's One-Shot Week 3! For newcomers to the strip, One-Shot Week is when we lay off storylines and themes for a week and act more like those nice, normal comic strips that you read in the daily newspapers, like GARFIELD or BEETLE BAILEY. In that each of the strips are self-contained, and they're usually not that funny. Although hopefully that last part isn't true in our case.
In other news, the STORY GUIDE has been updated. There's now 16 storylines for you to read in the archive! Just for extra info, I've added to each listing the dates that the strips originally ran.
And hey, have you subscribed to our strip delivery service yet? It's neat and easy! To subscribe, send a blank E-Mail to superosity-subscribe@topica.com, then reply to the message you receive in return.
STRIP #150! LINKS & AWARDS UPDATED! GOOD TOP 100 NEWS!
July 28, 1999

Fun Fact: Today's strip is #150, and this is Day 150 of SUPEROSITY (obviously)! Celebrate our 150th strip by throwing SuperosiParties in your neighborhood clubhouse, painting our logo and web address on a local fence that needs painting, or just tell a friend about us! If you're doing the latter (even though it's such a silly, crazy suggestion), you might like to use Recommend It. Thanks for doing your part!
In other news, the LINKS and AWARDS pages have been both updated, and seperated into two seperate sections (for faster loading and such). Plus, we're up two more spots on the TOP 100 HOMEPAGES (from #24 to #22). As Superositite Ethan E. Turner said jokingly upon hearing the news, "Just think, at this rate of advancement, you'll be number -355 in about 3.2 years." Seriously, folks, it's up to you to keep us jumping on the Top 100. Do your part, VOTE VOTE VOTE!
WE BE ON ZDTV! PLUS, GET SUPEROSITY DELIVERED BY E-MAIL!
July 25, 1999

SUPEROSITY is now being featured on the popular cable channel about computers, ZDTV! A dedicated Superositite named Mary submitted my little strip to ZDTV's "My Favorite Site," and a 30-second spot with Mary promoting the goodness of SUPEROSITY can apparently now be seen about every 3 hours on ZDTV! Keen, huh? If you want to see it, try looking for it during the first commercial break at the top of the hour at 1am, 4am, 7am, 10am, 1pm, 4pm, 7pm, and 10pm (all times pacific). To find out what channel ZDTV is on, check your local cable or satellite listings (it's somewhere in the 300s on DirecTV).
In other good news, you can now have the strip delivered every day directly to your E-Mail box (we used to do this before, but the mail server we were using wouldn't let us send graphics so we quit)! Along with the strip, I'll also be sending a copy of the latest "The Haps," so you won't miss the latest news and site updates. If you sometimes forget or are unable to visit the site every day (I know some of you can't make it here on the weekends), I heartily recommend subscribing! To subscribe, send a blank E-Mail to superosity-subscribe@topica.com, then reply to the message you receive in return, and you'll be all set! Or you can scroll up to right below the strip where you'll see the "TOPICA" logo, enter your E-Mail address, and click on "Join."
UP TO #24, AND THE STORY GUIDE HAS MORE!
July 19, 1999

We were #29 last week on the TOP 100 HOMEPAGES, and now we're #24! Ah, the wacky, rollercoaster-like life of SUPEROSITY on the TOP 100 HOMEPAGES. Ride up with us to the very high part of that coo coo crazy rollercoaster, VOTE VOTE VOTE!
The STORY GUIDE has been updated, too. And it's nothing like a rollercoaster.
JAR JAR HATER SEZ: "MESA LOVES SUPEROSITY MAXI-BIG!"
July 18, 1999

Another treat in the ol' E-Mail box today, this time from JARJARMUSTDIE.COM founder Jeremy Mueller: "Hello, I have read your newest strip and was wondering if it was in any way supposed to be directed at me. I would like to post it at my site, I think it's funny as hell. I have been reading your strip since it came out and love it." Thanks, Jeremy! "WWW.DIERASPUTINDIE.COM" wasn't specifically directed at your site. It was more of a generalized satire of the many Jar Jar-hating websites online. Your site seems to be the best of the bunch, though, and it did stick out in my mind the most when I was writing the strip.
SNAP GETS QUESTION MARKED!
July 17, 1999

With my blessing, SUPEROSITY's own Snap The Punk Turtle made a guest-appearance in Aric McKeown's hilarious cartoon panel, "?", on Friday. "?" can best be described, Hollywood Pitch-Style, as THE FAR SIDE meets SOUTH PARK. See what happens when Snap meets up with Professor Ashfield, click here! And be sure to read all the archived "?" cartoons. It's the funniest thing on the web that isn't SUPEROSITY!
DOWN, DOWN, AND STILL DOWN...PLUS STORY GUIDE UPDATED
July 13, 1999

We fell from #24 to #29 on the TOP 100 HOMEPAGES this week. *sigh* Well, at least I can console myself in the knowledge that the STORY GUIDE has been updated. And that the Top 100 Homepages are a scam to get people to visit their site so they can sell lots of advertising. But I will still support it, because I want to get into the Top Ten. Support the scam, VOTE VOTE VOTE!
UP, UP, AND STILL UP...SOME MORE
July 6, 1999

Up yet another spot on the TOP 100 HOMEPAGES, from #25 to #24. Hurrah! Keep it up, Superosities! I thank you mucho. VOTE VOTE VOTE!
UP TO #25 ON THE TOP 100, AND MORE
July 2, 1999

We're slowly rising again on the TOP 100 HOMEPAGES, up to #25 this week (we were #26 last week). Neat! Keep the good votes coming... VOTE! Thank you.
The SOUTH PARK movie did great ($4.85 million on it's first day, right behind WILD WILD WEST and it's $7.07 million)! This is a very nice thing, as we need far more weirdly-drawn-and-crazily-written animated movies, and far less movies starring Will Smith fighting a giant, computer-generated insect-like creature while spouting poorly-written wisecracks. Not that I have anything against Will Smith (he's the Fresh Prince, for Pete's sake!). Or giant, computer-generated insect-like creatures. But poorly-written wisecracks suck.
Have you checked out CLUMPS & SPIKES yet? If not, go see it! I have added an Introductions page, and more sections will be added to the site shortly.
CLUMPS & SPIKES DEBUTS, AND THE WOZ E-MAILS US!
June 29, 1999

Debuting today in a new section of our site is an all-new daily strip by our good pal, cartoonist Brew McCloud! CLUMPS & SPIKES is the story of Clumps O'Hare, an aged veteran of all the bad things the world has seen in this century, and his grandson, Spikes, a layabout slacker who dreams of hitting it big. Check it out, it's fun!
In other news, we at SUPEROSITY Central were E-Mailed today by legendary Apple Computers co-founder Steve Wozniak (he's the guy played by that guy from THE SINGLE GUY in the recent TNT movie, "Pirates of Silicon Valley"). To read his favorable comments about our little strip, as well as 12 other new comments, visit the updated NICE THINGS SAID page! Also, the STORY GUIDE has been updated.
ONE-SHOT WEEK 2, AND WE'RE A TOP TOON SITE!
June 28, 1999



One-Shot Week 2 is here! As you probably know, my strip normally does the whole storyline thing, where one strip leads to another and they end up telling a large story over a week or more. But about a month ago, I decided to do a whole week of SUPEROSITY that was more like a "normal" comic strip. Non-connected daily gags, or, if you will, what I like to call "one-shots". Well, that got a really nice response with fans, so One-Shot Week is back for another go-around! Let me know what you think.
In other news, we received yet another award this week. Ted Dawson, cartoonist of the newly-syndicated comic strip SPOONER, presented us with the "Top Toon Site" Award. Ted said: "Nobody's given me any awards, so I made one for myself. I thought that was a bit selfish, however, so I thought I'd present it to you as well. Congratulations to us both!" Thanks, Ted! Congrats, as well!
ONE IN A TRILLION!
June 23, 1999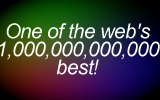 Jeez, not another award! This one was just presented to us by Scott E. Kuehner, one of the creators of the disgustingly hilarious LOOK WHAT I BROUGHT HOME! (suggested for mature readers only). Scott says: "I've decided to award Superosity one of the fake awards I created for the LWIBH page ("One of the web's 1,000,000,000,000 best!" Award)! Wear it with pride, I've never given one before! And.. I highly doubt I'll like anyone else's strip enough to give another. (Great strip today, BTW)" Thank ye kindly, Scott! Maybe next we can get the "One of the 1,000,000,000,000,000,000,000,000,000,000,000,000,000,000,000,000,000 Best Sites Featuring A Comic Strip" Award!
The LINKS & AWARDS page has been updated. As that crazy Dr. Evil would say, "Cool."
MAX LOVES THIS PAGE!
June 22, 1999



We got another neat award, this time from webmaster Alvin Chiu and his golden retriever dog, Max (who's featured in the award graphic)... it's the MAX LOVES THIS PAGE Award! After I formally submitted SUPEROSITY for the award, Alvin wrote back to say: "CONGRATULATIONS! You win the Max Award! You have an awesome comic! I've read your comic before, and was about to e-mail you on whether you would've liked to get my award. I guess I don't have to now, since you e-mailed me first." That's right, Alvin, and thanks! Check out Alvin and Max's website at http://www.geocities.com/Area51/Chamber/3838.
UP A NOTCH ON THE TOP 100
June 21, 1999

Hope everyone had a happy Father's Day! We jumped a spot (from #27 to #26) on the Internet Top 100 Homepages Charts this week. Thanks for voting, Superositites! Click here to vote for us on next week's charts. Superositize the vote! Or something.
CHRIS-CROSSING
June 15, 1999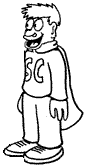 SUPEROSITY characters are appearing in a lot of strange places lately. Our own caped doofus, Chris, appeared yesterday in another great web-based comic strip called NEWSHOUNDS by Thomas K. Dye. In the strip, part of a storyline in which newshound Kevin eats something that makes him hallucinate, Chris appears with a bunch of other webcomic characters from cool strips like KEVIN & KELL, MELONPOOL, and GENERAL PROTECTION FAULT. Plus, he delivers what may be considered the punchline! Thomas didn't tell me Chris would be appearing in the strip, so it was quite a pleasant suprise to see him there. Check it out for yourself, visit www.newshounds.com (you may have to click on "Previous Strip" there to get to it, as it's the June 14th strip).
Meanwhile, everybody's favorite sentient board with jet thrusters, Boardy, appears in today's SPOONER!, the soon-to-be-L.A.-Times Syndicate-distributed comic strip by the ultra-neato Ted Dawson. The strip came out of a E-Mail discussion me and Ted had about Spooner being similar to Chris, and me jokingly wondering if maybe Spooner's wife Roxanne makes him keep his sentient board in a well outside (much like Rich did with Boardy in the recent "Trading Boardy" storyline). Only SUPEROSITY readers will get the joke, so go check it out! Crossovers are fun.
STARTING PAGE LIKES US. THEY REALLY, REALLY LIKE US.
June 14, 1999



We were just named a STARTING PAGE "Top 2000 Selection." Coolio! Richard Davis said: "I really like your site! I am from STARTING PAGE putting you up at page is a http://www.startingpage.com/html/comics.html. That directory to the Best Comics Sites on the Web, and as you can tell, it is highly selective. You are now a featured site in our Best of the Web Directory! Great site! Keep up the good work!" Thanks, Richard!
And for those of you still keeping score, we're currently #27 (down from #24) on the Internet Homepages Top 100. Sure, it's a better ranking than a bunch of wrestling sites and Michael Moore's homepage (nothing he ever does gets good ratings), but STILL. If you're feeling bored, or sleepy, or hungry, and/or you're breathing... VOTE!
Oh, and the LINKS & AWARDS and STORY GUIDE sections have been once again updated.
RYAN WADDELL RULES SUPREME!
June 11, 1999

Didn't have anything to announce today, so I thought I'd showcase one of the many nice E-Mails we here at SUPEROSITY HQ recieve semi-daily (I've been meaning to do this more often). Today's comes from Superositite Ryan Waddell, who sez: "Just wanted you to know that I really love yer work, the first 100 superosity's (superositys? superosities?) were great. I'm just curious, other than the few Snap comics you wrote, are there any other comics featuring these characters? Because I sorta got the impression that there was history here, but we're just thrown into the middle of it. If that's what it is, then cool! I've never seen a new strip do that before. I just thought I was missing something, and I'd suggest a character origins strip sometime in the future, maybe something concerning Boardy's history would be neato." Thanks, Ryan! Actually, there were other comic books published that feature the SUPEROSITY characters. As well as the three issues of SNAP that were published professionally <SNAP THE PUNK TURTLE'S HALLOWEEN FROM HELL #1 (1993), SNAP THE PUNK TURTLE #0 1/2 (1994), and SNAP #1 (1997)>, I did a comic book called SCC CONVENTION SPECIAL '94 (published, strangely enough, in 1994) that had Chris and the gang attending a comic convention. This book was produced mainly for distribution at the 1994 San Diego Comic-Con, but there are a few copies still available. Even before that, in 1991-92, I photocopied and sold in my parents' video store 16 seperate full-length comic book issues featuring characters from SUPEROSITY, including 9 issues of GIZ, 3 issues of SNAP, 2 issues of a comic called SUPERHERO KIDS? that featured Bobby and his gang of schoolyard chums, and two issues of MIGHTY RICH, which starred the character just introduced in yesterday's strip (the guy who traded gold shoes for Boardy), who's based on a real-life former employee of my parents' (now out-of-business) video store. Very few copies of these books were produced, so they're not currently available for sale. As for origins, I dunno. I would like to reveal where Boardy came from and who/what he is someday, but not soon. I like the mystery.
Be keen supreme like Ryan Waddell! Write to me and tell me what you think, and I might showcase your letter here! E-Mail me at crosbycomics@msn.com.
WE'RE DAILY, WE'RE A WEBSITE... WE'RE A SHOE-IN!
June 10, 1999



"Your web site, "Superosity", has been chosen to be the web site of the day on June 9, 1999 of http://www.dailywebsite.com, the web site that recommends useful and interesting web sites to surfers of the cyberspace. Keep up the good work!" Thanks, Daily Web Site! Check out our LINKS & AWARDS page to admire our newest trophy (plus, visit the newest links).
ONE-HUNDRED STRIPS OF SUPEROSITY
June 8, 1999

100 strips. That's a lot. Well, it's probably not a lot to Charles Schulz or Mort Walker or that guy who does MARMADUKE. 100 strips has gotta be about five minutes in Legendary Cartoonist Time. But in Scrappy Newcomer Web Cartoonist Time, it's pretty long! I've had Bobby make an ugly girl popular, I've taken the characters back to the 1970s to see Episode IV on the big screen, Bobby became a teen idol and an omnipotent Hanson brother, Chris got a cushy internet job and babysat a multi-billionaire, and all the characters even went to the beach!
Neat stuff, but it's nothing compared to what you'll be seeing in the next 1,000 strips, or the next 10,000. But you were here for the first hundred, and for that you should feel proud. Considering SUPEROSITY has almost as many strips as it does readers right now, that might not mean a lot to you, but it better in the future. Or I'll be pissed off. As a centennial present to SUPEROSITY, how about suggesting the strip to a hundred of your friends? Okay, even one or two will do. But one hundred would be even better!
UP FOUR SPOTS ON THE TOP 100!
June 7, 1999

Keen! We jumped from #28 to #24 on the TOP 100 HOMEPAGES! Thanks for VOTING, Superositites! Please VOTE every week! Strip #100 happens tommorow, and an even bigger leap on the charts next week would be a dandy 100th stripday present. I think so, at least. Though you don't have to call it stripday if you don't want to.
I FINALLY SAW EPISODE ONE!
June 4, 1999

POSSIBLE SPOILERS AHEAD: What do I think of STAR WARS: EPISODE I - THE PHANTOM MENACE? It was pretty good! I sat way up front, so the visuals were extra stunning (seeing it on film somehow makes the CGI look more realistic than on TV). The characters were pretty fun, too. I really did like Jar Jar, but I would have liked him more if he was given funnier stuff to say (is "How rude!" and "Exqueeze me" the best George could come up with?). Boss Nass was hilarious, and I enjoyed the Gungan race as a whole. I wasn't totally taken in by the plot, though the whole Queen Amidala/Padme clone/decoy/whatever thing was certainly interesting. Episode One was pretty good (I'd give it a B+), but it could've easily been a lot better. Slightly disappointing, but I bet the next two will be twice as neat (especially if there's lots more C-3PO and R2-D2!).
LINKS & AWARDS has been updated. May the links be with you. And the awards, too.
SUPEROSITY IS A TOP DOG!
June 2, 1999



Hey, we just received MR. CHUCK'S TOP DOG AWARD! We were named the Top Dog Comic Strip of the Month for June 1999 by John Myers, who also does an extremely funny weekly comic strip called THE MR. CHUCK SHOW WITH NED & STUMPY. I'm the first person to receive the award twice, incidentally (I also won in May 1998 for my work on the SNAP THE PUNK TURTLE comic strip). Click here to read the great review of the strip, and thanks to Mr. Chuck creator John Myers, who will always be Top Dog in my book. Gee, I sure like awards.
HAPPY JUNE!
June 1, 1999

Welcome to the last June of the century! As a special June treat, I've updated both the CAST OF CHARACTERS and STORY GUIDE sections. Well, actually, I did that just because it needed to be done. But you can consider it a treat. A June treat. (Sorry, I use up most of my hilarity in my daily comic strips.)
NUMBER TWENTY-EIGHT? WHINE!
May 31, 1999

Hey. Internet Homepages Top 100 WorldCharts. We're down from #22 to #28. Me sad. VOTE VOTE VOTE VOTE VOTE! C'mon. Please?
On a more articulate note, you'll notice this week that I'm doing one-shot gag strips (in the vein of BEETLE BAILEY or GARFIELD, only hopefully funnier) instead of my normal humorous storylines. It's not permanant, just thought it'd be cool to mix it up a bit. I've got some great storylines planned that I think you'll get a kick out of, including a SURPRISE STORY featuring a special guest star many comic strip fans already know and love. Stay tuned! Tell your friends! It's easy and fun, and it helps me out. Go, Superosity, Go!
Oh, and the LINKS & AWARDS section was updated once again.
ONE NOTCH DOWN AGAIN, BUT WE GOT ANOTHER AWARD!
May 26, 1999

We've been awarded The Kartoon Factory's "It's Too Cool!" Award. I'm not sure if that's a good thing (I think I'd rather be exactly the right amount of cool instead of too cool), but it's another award, so who cares? Thanks to Kartoon Factory big cheese Mr. Billy, who says "Congratulations, we visited your site and got our kicks there, so we'd like to present you with the Kartoon Factory's "It's too Cool" Award for web site excellence."
Oh, and we're down a notch again on the Internet Homepages Top 100 WorldCharts (from #21 last week to #22 this week). If this rate of drop continues, we'll be out of the Top 100 within under 80 days! Don't let that happen, my darling Superositites. VOTE VOTE VOTE VOTE VOTE! And also, VOTE! If it's not too much trouble, that is. (It isn't.)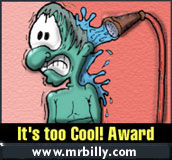 I'M SORRY, PLUS NEW UPDATES
May 23, 1999

I apologize profusely for not having the Sunday strip online until Sunday at 9:31am PST. The server was down at midnight, so I was unable to upload at the normal time. In happier news, the LINKS & AWARDS and STORY GUIDE pages have been updated. Yippie!
HAPPY INTERNATIONAL STAR WARS DAY!
May 19, 1999

It's so incredibly important in all areas of our life at this point, I just had to mention STAR WARS: EPISODE I - THE PHANTOM MENACE. I don't know how great it's going to be (unlike my brilliant comic strip alter ego, I didn't buy advance tickets), but I doubt it'll be as good as any of the films in the second trilogy. How could it possibly? I mean, C-3PO and R2-D2 are in it, so it's gotta be decent, but apparently the vast bulk of the film revolves around the antics of an annoying floppy-eared alien named Jar Jar Binks who looks, moves, and sounds completely fake. If this is the current state of CGI, bring back the puppets! I love comedic characters (my favorite HE-MAN character was Orko, for Pete's sake), but Jar Jar looks iffy. I could be wrong, though. What do you think?
Oh, and the LINKS & AWARDS page was updated again. Gosa tosa seesa it'sa, peoplesa!
NUMBER TWENTY ONE, WE ARE...
May 18, 1999

We're at #21 now on the Internet Homepages Top 100 WorldCharts Thingamajig (down from #20), even though we got way more votes than the sites that were right next to us. I think the problem is that a lot of you aren't registered with the WorldCharts, so your votes don't mean as much to them. If it's not too much trouble, it'd be cool if you registered and voted. Not that it matters, it's not like there's a cash prize or anything...
MAXI BIGGA UPDATE, YOUSA PEOPLES! PLUS: SNAPALLA!
May 17, 1999

The LINKS & AWARDS section has some more new stuff, and the STORY GUIDE has been updated with a description of our most recent storyline (the four-week epic guest-starring all those crazy celebrities with omnipotence and evil-sensing powers). Today starts an all-new storyline, hurrah! This one promises to be much, much shorter than the last one. I promise. I hope you will all grow to love little Moneybags Richman, our newest character, as much as you love your current favorite SUPEROSITY character (which better well be a lot).
Oh hey, don't forget to check out SNAPALLA, the first-ever SUPEROSITY-related fansite! Jas Ingram is the man behind SNAPALLA (named after the kingdom Snap will rule with an iron fist in the year 3012, as chronicled in my comic book SNAP THE PUNK TURTLE #0 1/2), an entire site based around astounding 3D computer-generated images Jas created of everybody's favorite punk turtle, Snap. It hasn't been updated in awhile, so there's no mention yet of SUPEROSITY there, but it's still really keen. Experience SNAPALLA for yourself!
MORE LINKS & AWARDS AND MORE NICE THINGS SAID, TOO!
May 13, 1999

A few great new links and awards have been added to the LINKS & AWARDS section, and there's a bunch more comments about SUPEROSITY in the NICE THINGS SAID ABOUT SUPEROSITY section (including a few awe-inspiring words from DILBERT creator Scott Adams!). Check 'em out.
#20? OH WELL, AT LEAST WE GOT MENTIONED ON A BRITNEY SPEARS FAN SITE.
May 8, 1999

The good people at Britneys.com (one of the best Britney Spears fan sites on the web) mentioned our little comic strip guest-starring Bobby's favorite pop songstress. Says them: "She kicked one of the main characters in the face! It's hilarious." Thanks to keen supreme Superositite Erika Gunthry for telling them about it!
The bad news? We dropped from #17 to #20 on the Internet Top 100 Homepages. Hmm. I will be saying a prayer to Hanson tonight, asking them to get my wonderful, terrific, well-groomed fans to vote for me. If they feel like it, of course. I don't want to get Hanson mad. VOTE!
HAPPY CARTOONISTS DAY!
May 5, 1999



May 5 is "Cartoonists Day," and today is May 5! What does that mean to you, the average reader? Well, maybe not a lot, but it probably should. Why, you ask? Because cartoonists are the people who write and draw the comic strips you enjoy every day (and the ones you don't, too). What have you done for your cartoonists lately? Not much, I assume. Think of the poor internet cartoonists especially, who slave away with pen and ink (or pressure-sensitive electronic tablet) in hand every single day (the really good ones, at least). They're drawing up comic strips, scanning them, coloring them (the really good ones, at least), uploading them, and letting you read them for free. They don't get paid, and you don't even have to buy a crummy newspaper to get them! On this Cartoonists Day, do a little something good for your favorite friendly internet cartoonists. Write to them, and tell them what you think of the strip. Tell at least one friend to check the strip out. Buy some of their merchandise if they have any available. Vote for them in the Internet Homepages Top 100. Heck, just doing the first two suggestions would be great. All it takes is a minute or two (or less), and it'll brighten the day of someone who draws funny pictures for you to laugh at. Okay? Cartoonists are people, too. Insane people, but people nonetheless. Is that how you spell nonetheless? That's a funny word.
THREE STRAIGHT WEEKS AT #17
May 3, 1999

We stopped rising on the Internet Homepages Top 100. Sure, #17 is a fine and dandy position (we're higher up than a lot of famous sites), but we can do better! If it's not too much trouble, try and VOTE for us a teeny bit more this week. Just so we can go up one notch, at least. That'd be neat, right? Am I right, people? Huh? Oh, well...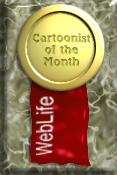 CARTOONIST OF THE MONTH... ME?
May 1, 1999

What a nice way to start off a brand-new month... Weblife has chosen me as their Cartoonist of the Month for May 1999! John Cameron, Weblife's head honcho, sez:"I am very happy to announce that your web page, "Superosity", has been selected as the winner of WebLife's Cartoonist of the Month award for May 1999. Congratulations! This award is presented to only the truly exceptional cartoon pages found on the web." Keen, thanks!
Also, the LINKS & AWARDS page has been updated.
INTERVIEWED IN THE CARTOONIVERSE
April 30, 1999

Cartooniverse.com, the "Ain't It Cool News" of animation-related information and reviews, has interviewed little ol' me! You can check out the interview in full at http://www.cartooniverse.com/interviews/superosity.html.
WHAT A BUNCH OF GOATS! OR, UH... ONE GOAT.
April 29, 1999

The latest winner of our sacred and much-wanted Achieving Superosity Award is... GOATS: THE COMIC STRIP! Read our short review here, then check out the site. Oh, and vote for us and GOATS in the Internet Homepages Top 100!
WHAT A BUNCH OF CHARACTERS!
April 27, 1999

Because a few people actually suggested it, and because I planned to do it anyway, the CAST OF CHARACTERS page is now up! It's an at-a-glance look at each character ever featured in SUPEROSITY (all the ones that actually have names, at least). Go see it!
OUR TANNLINE IS SHOWING...AND WE'RE STILL #17.
April 26, 1999

Tannline's own Robb Tanner has chosen us to be his Link of the Week! Here's a taste of his review: "Chris Crosby draws with a real sense of maximum goofiness and gives the strip a visual impact few other current web strips possess. (It doesn't hurt that every episode is in color.) The main character Chris (and his brother Bobby) already have clear personalities in just two months worth of strips. Chris just may be the stupidest character I've ever met (we're talking dumb and dumber here). And yet he's actually charming." Read the rest of the review at Robb's neat site, or in the new section on our site, NICE THINGS PEOPLE SAID ABOUT SUPEROSITY. Thanks, Robb!
Oh, and we stayed at #17 this week on the World Charts Top 100 Homepages. We didn't move an inch. Vote a bit more this week, okay? Give us more points, too! And register, so your vote is worth more! We're shooting for #16 next week! Maybe it won't solve world peace (or even bring about world hunger), but it makes me feel like a "real big man." VOTE VOTE VOTE!
LINK TO US! RATE US! LOVE US!
April 22, 1999

I've designed a few link buttons you adoring readers can use to link to us! Check them out here (at the bottom of the page). I'll have more, keener-looking designs coming soon.
Would you please go here and rate SUPEROSITY? The rating thingy is right under the strip, where it says "Your Rating." I'd like to see what our rating would be if it was from the people who read the strip every day, instead of just the people on WebComics.com who stumble into the middle of a storyline and hastily give the strip zero stars (our rating is pretty much 50/50 love/hate right now). Much like the Potato Judge on LATE NIGHT with Conan O'Brian who sentences a child to death because someone stole his bicycle and he reported it to the police. What was I talking about?
Oh yeah, tell your friends about SUPEROSITY if you think they might like it! As STAR WARS: EPISODE ONE's Jar Jar Binks might say, "Wesa needsa the hitsa!" You see, he talks funny...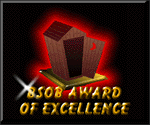 YOU DOWN WITH BSOB?
April 21, 1999

The BSOB Award of Excellence is OURS, and no one else's! Here's what the folks at BSOB (Brown Shack Out Back) Productions had to say: "We like to think of ourselves as artists too (hey, don't laugh!), so we were immediately taken with your online cartoon strip. Unfortunately it takes a natural disaster or an act of Congress (sometimes one and the same) to get us motivated enough to update our awards section. Sorry for the delay!" I'm lazy, too, so I can relate to you guys, much like everyone who works in an office can relate to DILBERT! Thanks for the award, BSOB! Everybody go visit their site, because they like my strip.
WE'RE #17! BUT WHAT'S WITH THE FLYING CAR?
April 19, 1999

We hopped from #23 to #17 on World Charts Top 100 Homepages this week! Thanks for your VOTES! Please try to VOTE with every visit to the site, and we'll be in the Top Ten in no time, rubbing shoulders with USER FRIENDLY, SLUGGY FREELANCE, and GOATS! That'd be neat. Oh, and remember to register with World Charts before you vote. That'll make your votes worth more, which is good.
A few people asked me what was up with the flying car Chris drives in Friday's strip. Well, it's a flying car. Boardy built it using his super-intelligence and his knowledge of future technology. Chris didn't buy it in a flying car store or anything. It's funny, nobody questions Boardy's access to time travel, or the fact that one of our characters is a talking board (our most POPULAR character, according to the current results of our first reader poll), but some of you wonder why Chris drives a flying car. As Boardy would say, "That's crazy!" But we love you anyway.
"...BUT WERE AFRAID TO ASK"
April 17, 1999

Learn both "About The Strip" and "About the Cartoonist" in our new ALL ABOUT SUPEROSITY section!
NEW SECTION ADDED: THE STORY GUIDE!
April 16, 1999

At the request of exactly one person (if you can count your own brain as a person), I have added a Story Guide to the site! It has little blurbs about each storyline that has appeared in the strip so far (7 of them, if you're wondering), and links to each one. I'll be adding even more new sections this week, so keep reading!
WE JUST KEEP RISING AND RISING...
April 11, 1999

Showing your extreme (or at least pretty good) power in numbers, you happy Superositites have shoved us up on the World Charts Top 100 Homepages from #40 to #23 this week! Keen, huh? You people who read the strip every day are even smarter than Boardy...and he's pretty smart! He can travel through time, too.
If you can get us into the Top Ten in the next few weeks, I'll do something really special. Like, maybe send all my readers prizes, or something less expensive. Much like "Anything Can Happen Day" on the Mickey Mouse Club (the Disney Channel version, not the 1950s or 1970s ones), anything CAN happen! So tell your friends about the strip, and tell them to VOTE VOTE VOTE! And don't forget to VOTE yourself! Plus, E-Mail me and tell me what you want to see happen when we hit the Top Ten. I will not consider anything that could result in anyone's death, sorry. :)
ROCK THE VOTE
April 10, 1999

Take our first poll! I want to know what you think. The character who gets the most votes I will consider featuring in the strip more than I might otherwise. But I can't promise anything. :> (My favorite character is Boardy, by the way. Mostly because he's neat to draw.)

BEGRIZZLED COUNTENANCE!
April 9, 1999

From Ethren E Turner: "Star Wars "A New Hope" only opened in 20 theaters nationwide, and there were no lines. It wasn't until Empire and Jedi that the lines became a Star Wars tradition. Sorry. I know it's just a comic, but can you blame me for taking history seriously when people like you, to say nothing of your cartoon characters, waltz with impunity all over its begrizzled countenance. Just think about the children, okay? That's all I ask."
Ignoring the fact that this strip also features a hovering, talking, super-intelligent board with the ability to travel through time, which obviously means it's set in a slightly alternate universe, I must concede that Ethren is probably right. However, "Smokey and the Bandit" was a very popular movie that opened at the same time, and it's likely young Burt Reynolds' star power was able to bring in the lines featured in the current story. Therefore, Ethren is wrong and I am right. Hurray!
On a related note, thanks to Countdown to Star Wars for mentioning us on Thursday! Did you know they're already in line for Episode One? If not, you should, because they were on Entertainment Tonight, Access Hollywood, NBC News, E!, and a bunch of other TV shows yesterday. Go, Countdown, go!
HITTING THE BIG 4-O ON THE BIG TOP 1-O-O!
April 6, 1999

We jumped from #61 to #40 on the World Charts Top 100 Homepages! Hurrah! Click here or on the button to make us raise higher, and possibly make you rich and famous (the latter is incredibly unlikely)! VOTE VOTE VOTE!
Also, I was just informed that we were chosen as Site of the Day by SetOff.com! I'm not sure for WHAT day we were chosen to run on their site, but I think it's April 10. We were chosen in the humor category, which is very reassuring. :)
Also also, the Achieving Superosity Award page has been updated with our newest award... to the five best FUTURAMA fan sites on the net! Check it out.
HAPPY EASTER, SUPEROSITITES!
April 4, 1999

As the above text says, happy Easter! Our visitors coming from bookmarks has almost doubled in the past week, so I'd like to give a "shout out" to all the new regular visitors. I hope you're all enjoying the strip. If so (or not), E-Mail me to let me know! Oh, and check out last week's already classic Easter-themed SUPEROSITY strip. In the words of Albert Einstein, the man who was able to fit e=MC into a square, "have a rockin' Easter, dude!" (He said that, right?)
ONE MONTH OF SUPEROSITY? YEP, AND THAT'S NO APRIL FOOLIN'!
April 1, 1999

Yep, our little strip has hit the ONE MONTH MARK! Keen, huh? People said we wouldn't last a month, but we showed them. Well, no, I don't think anybody said that. But they were probably thinking it. Screw you, people who were thinking we wouldn't last a month!
And, in honor of April Fools Day, I have decided to not pull any sort of April Fools Day thingamajig. No tricks or tom foolery. None of that crap. Since everybody else is doing that stuff, in a way, NOT doing anything is sort of LIKE doing an April Fools thing, right? Or is it not? Or IS it? I dunno, I'm lazy. Sorry. We'll have something BIG and FUN for you next year, I promise. It'll be wacky.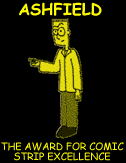 PROFESSOR ASHFIELD LIKES US! HE REALLY, REALLY LIKES US!
March 31, 1999

We got the Ashfield! The coveted Ashy is all ours! Read the keen review here. Thanks to Aric McKeown (creator of the completely and utterly hilarious "?") for the award!
WE'RE #61! AND FUTURAMA WAS NEAT! HOORAY!
March 29, 1999

Last week on World Charts' Top 100 Homepages in the World, we were #73. Now we're #61! It's like magic! Naw, it's not magic at all. It's thanks to my loyal readers who love me so, and love SUPEROSITY even more so (or are at least slightly more than indifferent to it). Thanks! At this rate, we'll be in the top 10 in a few months! However, as Sonny Bono (and later Britney Spears in her hit album BABY ONE MORE TIME) always said, "the beat goes on", and therefore the voting goes on. Keep clicking the little Internet Homepages Top 100 button and voting every day. Why? Because I like seeing the text that says "Superosity Chris Crosby" rise and rise and rise. Even if it's not magic, I like to pretend it is. You can, too! Vote!
On a totally unrelated note, anybody see Matt Groening's FUTURAMA yesterday? Pretty neato. I liked how the computer-generated background graphics really looked almost like they were hand-drawn. Though the idea of a story set in the 31st century is incredibly similar to a comic book I wrote and drew in 1994 called SNAP THE PUNK TURTLE #0 1/2 (which set in the year 3012), I have decided not to sue Matt Groening. Because FUTURAMA is keen, and because it's nothing like SNAP #0 1/2 . Which is still available from Mile High Comics, by the way! Click here to order what didn't inspire FUTURAMA!
SOME SLIGHT DESIGN CHANGES
March 23, 1999

Because people have been commenting that the ol' homepage is a little too loaded with information every day, I've taken off the "Favorite Stuff Spotlight" and the "The Latest Achieving Superosity Award". The page will most certainly load a lot faster, but was taking these two features off the frontpage a mistake? Does anybody want me to put them back up? Let me know. Whatever the case, the main sections these two features spun-off of will continue to exist: Chris Crosby's Favorite Stuff and Achieving Superosity. Check them out!
WE'RE NUMBER SEVENTY-THREE IN THE TOP 100 HOMEPAGES IN THE WORLD! WOO-HOO!
March 21, 1999

Yes, we are now officially part of the Top 100 Homepages in the World, based on votes from Superositites just like you! In our first week on the Charts, we were able to hit #73! Thanks, my loving minions! With the help of yourself and people similar to yourself (tell your friends!), we can quickly, or gradually under the cover of darkness, actually take over the world! After that happens, we can make it a better place by giving everyone free optional joyrides in the space shuttle, we can all be Co-Presidents (with our best friends being Co-Vice Presidents), this year's Academy Awards will be redone and THE WATERBOY will win Best Picture (and Kathy Bates wins as Best Actress for her amazing role as Mama Boucher in THE WATERBOY, and not that crappy PRIMARY COLORS), and our favorite styles of ice cream will flow freely in crazy-ass ice cream rivers (also optional). Let's take over this wacky world and make it even wackier, VOTE NOW AND VOTE OFTEN! Thank you. I love you all.
By the way, as it says below the strip, we're moving to a new server, so things might go screwy for a spell. Hang in there!
I WOULD LIKE TO THANK THE ACADEMY...
March 16, 1999

We just won our first AWARDS! The Lunar Graphics Award was given to us because our site is "easy to navigate, educational, nice graphics, and has an overall good design!" Also, we got the Over The Edge Award, because we are an "excellent site in design, navigation, content and over all excellent contribution to the world wide web!" Check out these shiny new award graphics! Thanks to the people who gave me these awards, you are very smart.

WE'S IN THE TOP 100 HOMEPAGES! SORTA.
March 15, 1999

Okay, we're not officially in the Top 100 Homepages yet, but thanks to the write-in votes of you wonderful readers, we have been assigned our own Top 100 code, and we're already ranked #7 in the "Runners Up" category. Let's get SUPEROSITY into the Top 100, Superositites! Vote for us every day, right after reading the newest strip. I'll be featuring the "Internet Top 100 Homepages" graphic voting link on the right top corner of this section from now on, so just give it a little click each day (it'll open in a new window, so you don't even have to leave this site), and your vote will be counted automatically. No more lousy write-ins for my Superositites! Are you getting tired of me saying "Superositites?" Sorry, I'll stop. Vote now! Thank you. :)
ILLIAD: GREATEST PERSON WHO EVER DID LIVE?
March 11, 1999 | 2:48pm PST

As promised by Illiad, USER FRIENDLY's Daily Static linked to us, and so far we have received almost 1,500 new visitors from UF! Welcome, fellow UFies! I hope, in time, you will grow to become both "UFies" and what I like to call "Superositites". Yes, "Superositites". You don't have to call yourself Superositities (because people might make fun of you, and nobody wants that), but you should at least feel very Superositite-ish in your heart and soul. Because that's where it counts, folks.
CLICK HERE TO VOTE FOR US IN THE TOP 100 HOMEPAGES, and vote for USER FRIENDLY while you're at it! We don't have our own Top 100 code yet because we haven't gotten enough votes, so go to this page where you can type out the name and URL of your vote. Ours is easy to remember: The name's "Superosity," and the URL is "www.superosity.com". Simple enough, right? To all who voted, thank you! If you have the time, E-Mail me to let me know you voted, and tell me what you think of the strip.
I've gotten quite a few E-Mails and ICQs today, some of which (well, one of which) asked questions about the strip. A charming person from Sweden asked if the characters in the strip are superheroes, because some of them wear superhero costumes and the strip is called Superosity. The answer? No. The strip has nothing to do with superheroes. Why the costumes and cape and title, then? We'll be addressing that in a later strip, so stay tuned.
SUPEROSITY GETS MORE USER FRIENDLY
March 11, 1999 | 12:00am PST

I just received an E-Mail from the creator of what is likely the most popular web-based comic strip ever (and one of my favorite comic strips ever), USER FRIENDLY's Illiad. He told me he'd be mentioning our own SUPEROSITY on The Daily Static either today or tommorow (for you non-UFies, that's the place he uploads the newest strip, puts the latest news, and other keen stuff), and he even complimented me on my work! Being mentioned favorably in The Daily Static is one of my months-long dreams (hey, I've only been reading UF since October!), but also having Illiad toss out some kind words about my strip is the tasty cake inside the delicious, delicious icing.
For those of you coming here from USER FRIENDLY, hiya! Like UF, I hope you will make this strip one of your daily comic pleasures. We're in the middle of a week-long storyline right now, so please get the full experience by going back to the first SUPEROSITY strip and reading it from the start (don't worry, we've only been running for 11 days!).
PUT SUPEROSITY ON YOUR WEB PAGE!
March 10, 1999

Want SUPEROSITY to run every day for free on your own personal website? Good, because SUPEROSITY is now available to run every day for free on your own personal website! Click here for details!
BIG CASH PRIZES JUST FOR PLAYING A FREE GAME!
March 9, 1999

Just added to the site: the Superosity/Uproar Game Zone! Play the Entertainment Trivia Game for a chance to win cash prizes, with no cost to play! Thanks to the great folks at Uproar for the game.
THE CHAOS THEORY
March 8, 1999

Thanks to Bob Cesca and the kind folks at Camp Chaos for linking to us on their homepage, and for saying the strip is both "hilarious" and "funny stuff!" And welcome to all the nice folks coming here from the Camp! I hope you'll all visit daily. Sure, we're usually not as funny as "The Dante & Jimmy Hour," but at least we have a new one for you every day! You have to get your required cartoon entertainment somewhere while you're waiting for your next fix of hamburgs and Telefuglies, and it might as well be here.
Ever wonder what the proper way to pronounce "Superosity" is? You know, so you can tell all your friends about it without looking like an idiot (if that's possible). Anyway, check out this SUPEROSITY logo that I spiffed up in Macromedia Flash to find out how I personally say "Superosity". Just wait for it to download, then click on it or move your cursor over the logo to hear it. Check it out!
BRANCHING OUT
March 5, 1999

My little SUPEROSITY is steadily but surely spreading itself out all over this great big web of ours. Not only did a story about the strip run on COMICON.com yesterday, the strip itself is running daily on SikkOne9, Toon Inn, WebComics, and The Sunday Comix. Support all of these great sites, and let them know who sent you!
Oh, and we added a search engine to the site! It's the yellow thing right below today's strip and above this column. You can search either just in this site, or the entire web. Keen, huh?
YES, WE'RE STILL HERE!
March 4, 1999

It's Day Four of SUPEROSITY, and the Superositrain just keeps on rollin'. For those of you who have been reading from the beginning, thanks a bunch! For those new to the strip, keep reading! Please? If you don't love the strip yet, I believe you will in time. You ain't seen nothing yet, dear comic strip reading pal. And no, the entire strip isn't based around Chris asking people if they're his best friend. Next week's storyline focuses on Bobby (Chris' little brother, introduced in today's strip), and it's hilarious, if I do say so myself.
A lot of you are coming to the strip from the hotlink Pete Abrams' SLUGGY FREELANCE gave us yesterday (thanks, Pete!). To those Sluggites reading this, congratulate yourself for being part of the certain percentage of people to click the SUPEROSITY graphic on the Achieving Superosity page (that's where Sluggy linked to)! You are truly of superior genetic material than the rest of the people in the entire world, and possibly the entire universe, and maybe even the many theorized alternate realities. Heck, you're the best people in the whole gosh-darn multiverse! Assuming you read the strip every day, of course. :)
Check out the newest section of the SUPEROSITY frontpage: The Favorite Stuff Spotlight! It's directly below this section (just scroll on down), and each day we'll be spotlighting a different one of my favorite entertainment products. Because who doesn't want to hear about my favorite stuff? I know I do!
Thanks to Thom Tapp, Scott Loving, Steve Conley, and everyone else who wrote to me with kind words and good thoughts about the strip. As always, keep the E-Mail coming! If you've got a question or comment, I'll run it right here and you'll be semi-sorta-famous!
WELCOME, WELCOME, WELCOME!
March 1, 1999

Welcome to SUPEROSITY.com, home to the daily, full color comic strip by yours truly!
SUPEROSITY features the trials and tribulations of a guy named Chris. He wears a funny-looking costume and cape for no apparent reason. Along with his scientist friend, Boardy, his scheming little brother, Bobby, his Circle Z clerk pal, Barton, his cocker spaniel dog, Giz, and a gaggle of other funny characters too minor to mention, he tries to answer the eternal questions of the human race while still fitting in a lot of quality time watching old ALF videos.
And yes, I bring you this daily, full color comic strip completely free. No strings attached. You don't even have to read the strip every day. But I would appreciate it if you would. C'mon, it's not that hard. It takes a minute or two a day at the most, unless you're a really slow reader. Just bookmark us, come back, laugh, and repeat the process 7 days a week. If you haven't already, I suggest opening a folder called "Daily Favorites" (or something to that effect) and putting in there all the bookmarks you'll be visiting daily, like ours (I hope). Because it sucks to have to plow through a giant list of bookmarks every day, most of which you probably only check out once a month or something.
For those of you wondering, here's a quick run-down of the full contents of this site so far (much more to be added soon):
THE FRONT PAGE: This page contains the Newest Strip, "The Haps" (my regularly-updated column on what's new and keen in SUPEROSITY-land.), The Achieving Superosity Award (the current winner of the award we give to websites we like), and Write To The Cartoonist (a form you can use to write to me, in case your browser doesn't support the normal way to E-Mail me).
THE STRIP ARCHIVE: Every SUPEROSITY strip I've done so far.
CHRIS CROSBY'S FAVORITE STUFF: My attempt at making money through this site by writing short reviews of my favorite Videos, Music, and Books, and linking to where you can buy what I'm talking about at AMAZON.com and related companies. You get a discount, I get a small commission that has no effect on your purchase price, and everybody's happy.
Well, that's about it. Keep reading the strip, and remember to E-Mail me! Unlike most bigshot cartoonists, I want to hear from my adoring public. At least, until I'm so deluged with mail that I can't possibly respond to them all. But we're a heck of a long way from that! Got any questions? Comments? Anything? Send it my way!