THE HAPS
HAPPY ROCKIN' NEW YEAR'S EVE, SUPEROSITITES!
December 31, 2001
2002 is gonna rock oldschool.
UNITED MEDIA PICKS UP SHELDON
December 17, 2001
David Kellett's excellent webcomic SHELDON has been picked up by United Media (aka United Features Syndicate Inc, the same guys who brought you PEANUTS and GARFIELD and other classic strips). If it gets lots of readers at comics.com there's a good chance they'll syndicate it to newspapers worldwide. So go check it out! I'm sad to see Dave have to leave our little Keenspot club (though he'll always be an honorary Keenspotter!), but I sincerely hope his dream of newspaper syndication will come true, and I'm happy that the outside world (aka the people who still read newspapers) may get a chance to experience the fun of SHELDON. Go get 'em, Dave! We're rooting for you.
In other fun news, Chris made a cameo in MAN-MAN COMICS on December 10. Fun!
ONE THOUSAND
November 24, 2001
As this weekend's Keenspot Newsbox somewhat dramatically indicates, I reach my 1,000th strip tommorow. That's 1,000 strips in 1,000 days. I've been consistently seven days a week since the start and never missed a day. As someone who had some trouble keeping a deadline before starting this strip, that's not too shabby!
I thought I'd be amazed when I reached my 1,000th strip, but drawing SUPEROSITY has become so much a part of my daily life it's like breathing, or watching STAR TREK: THE NEXT GENERATION marathons on TNN. I feel like I've been doing it forever (in a good way), and I should be on my 1,000,000th strip by now! Still, 1,000 is pretty darn nice.
For those of you who have arrived here thanks to the Newsbox, welcome! Yes, I know this is a weird strip, and you probably won't like it at first, but I ask you to give it a fair shot. It takes some time to totally "get". Believe it or not, some of my biggest fans are people who literally hated SUPEROSITY at first, but were bored one day and read a chunk of the archives, or were or forced by a friend to read the archives, and now consider it one of their favorite comic strips of all time. Wouldn't you like to be one of those people? I know I would! Reading the entire archives takes something like 10 hours, so you might want to start with a specific storyline like Marlene's Story (an insane parody of "She's All That" and "Can't Buy Me Love"), Stealing From O.J. (Chris steals money from O.J. Simpson to pay his friend's rent), Inspector Drugged-Out (Chris feeds his job inspector drug-filled cookies so he'll pass inspection), or SW2 (Chris and Bobby get cast in "Star Wars: Episode II").
Thanks to all of you who have followed me on this 1,000 strip journey, and will be reading the next 1,000. If it's not too much trouble, force a good friend to give SUPEROSITY a try. Though every single reader is a special beautiful jewel to me, it's not too keen when the number of strips I've drawn is starting to near the number of readers the strip has. So tell a friend! Rough them up a little if you have to! Happy holidays!
NEMESIS
November 17, 2001
Um, my mom (and SUPEROSITY colorist) Teri Crosby was named "Nemesis of the Month" by the mysterious group of ruffians known as the Four Toon Tellers. She asked me to mention it here, so I assume it's something to be proud of. Congrats, I think!
I DREW FRIDAY'S ALICE! COMIC
November 12, 2001
Michael McKay-Fleming asked me to draw an ALICE! strip for his "Guest Artist Week", and I did so gladly because ALICE! rules. You can check my contribution out here if you so desire.
SUPEROSITY FAVORABLY REVIEWED BY CBG
November 3, 2001
The first two issues of the SUPEROSITY comic book were favorably reviewed in issue #1460 of COMICS BUYER'S GUIDE, the long-running weekly comic book magazine. I've been a happy subscriber of CBG since 1993, so it was very cool to see my work reviewed in there for the first time. You can check out the review right here.
HAPPY NOVEMBER!
November 1, 2001
Welcome to November, Superositites! Hope you all had a happy Halloween. We only had a few trick-or-treaters come by this year, which makes me think that some of us aren't following the order of our President and getting back to normal. Stop disobeying our President, dammit! The terrorists will win if you do that! Unless you were all home watching ENTERPRISE, of course. The terrorists don't want you to do that. If that's not normal, I don't know what is.
Speaking of enterprise, the jolly folks at Keenspot have introduced a special limited-time SUPEROSITY holiday package sale thingy. For only eight bucks ($3.80 off the combined cover prices), we'll send you the first four SUPEROSITY comic books (issues #1-4 all autographed with love by yours truly), and a customized character sketch also by yours truly. Just tell me what you want drawn on the sketch and I shall draw it to the best of my limited ability. If that's not the perfect holiday gift, I don't know what is. It's all printed and ready to ship immediately, assuring pre-Christmas delivery. Click your location to order: U.S./Canada or International.
For those who don't want all four issues but only want #1 or #2 or #3 or #4, individual issues are also available to order seperately right here (though there's no neato discount on single issues).

I AM SO DAMN TRIBUTED SOMETIMES
October 22, 2001
James Duncan of the very cool MAN-MAN COMICS (which is written by Super-Superositite Matt Shepherd) sent over some keen fan art yesterday, and the kindly folks at BAKED BABIES paid tribute to my little strip on Saturday. Thanks for reading and caring, guys!

WANT A FREE BOARDY PLUSH TOY?
October 18, 2001
Question: Would you subscribe to the SUPEROSITY comic book (a 12-issue subscription costs $28.00 plus shipping) if the free gift was a Boardy plush toy? And if not, what would get you to subscribe? E-Mail me and let me know.
SUPEROSITY COMIC BOOK REVIEWED ON CBR
October 4, 2001
Aside from being called not as good as CATHY (which prompted this joking piece of art from David Willis), the SUPEROSITY comic book series was semi-favorably reviewed by comic book writer Steven Grant (PUNISHER, X-MAN) in his PERMANENT DAMAGE column on ComicBookResources.com. Check it out if you like (scroll down 'til you see the cover of SUPEROSITY #1).
SUPEROSITY #2 AVAILABLE NOW
September 20, 2001
Issue #2 of the SUPEROSITY comic book is in comic book stores as of Wednesday, September 19, and the issue will ship to subscribers this week. Sorry for the delay, we'll get back on schedule by October.
THE BIG TWO-FOUR
September 15, 2001
Today's my 24th birthday. 24 years of me. Crazy.
If you want to buy me a gift, donate some dough to the American Red Cross or another worthy charity. They need it right now more than anything else. And if you happen to feel like buying some of my comic books at the same time, Keenspot's selling a 3-pack of books (which includes the first two issues of SUPEROSITY and the excellent first issue of BLACK PLAGUE) and we're giving 100% of the profits from that to the Red Cross. Buy that here.
SOME THOUGHTS ON YESTERDAY'S STRIP AND THE TRAGEDY
September 13, 2001
On the evening of September 11, I really wasn't sure what kind of strip to create for the next day. I mean, what happened on Tuesday was obviously an unthinkably insane tragedy, and of course my heart goes out to everyone affected by it. That goes without saying, doesn't it? The web didn't need yet another comic with the characters all shedding tears, or a blacked-out strip done as a comic strip moment of silence. Not that either of those are bad (they're definitely not) but it's not my style. And taking the day off isn't an option for me, either. I've been on time every single day for over 925 days, and I wasn't gonna let some horrible asshole terrorists break that streak.
I thought about just ignoring the event entirely, to go on with One-Shot Week as if nothing had happened. But what I decided to do was take advantage of the immediacy of the web, much like I did in my Election 2000 storyline (for better or for worse, not everyone was fond of that). I wanted to be as tasteful and respectful and honest as possible in actually commenting on the events of the day with some humor. It seems I'm one of the few cartoonists on the web who decided to take on the event in a comic strip context (Eight's Bush strip is the only other one that comes to mind at the moment, but I've only read about 50 comics today).
Maybe I succeeded in my goal, and maybe I didn't. It's ultimately up to you. I will admit that the strip might come off as kind of flippant or uncaring to some in the wake of such a disaster. But keep in mind that it's expressing the point of view of a non-human character watching these events unfold. A non-human with emotions, but a non-human nevertheless, one who's travelled to the far future and seen billions of people killed in war. Not that I don't agree with Boardy's view, I do (though those who disagree have made fine points). It's been a pet peeve of mine, and it's pretty much irrelevant in the larger scheme of things. But the way Boardy presents his viewpoint may be off-putting to some. Which I understand.
Whatever the case, it got some people talking. I received quite a few E-Mails about it (all of them positive, happily), traffic to the homepage rose by about 35% on Wednesday, and it sparked a lot of interesting, intelligent discussion on the Message Board. It's even prompted the real-life Bobby to jump into the debate, surprisingly.
I hope all of you are well and are doing what you can to help your fellow man in this time of crisis and uncertainty. If you have some blood or money to spare, give it to the Red Cross (I made them the default banner ad on all Keenspot sites this week). Read Michael Moore's latest message. Don't give into the evils of revenge and senseless hate. Try not to be too depressed.
Thanks for reading.
BABIES IN TIRES AND PENGUINS IN CAPES
September 5, 2001
There's a couple of web animation projects that I've been working on for a long while that you guys might wanna sneak a peek at. One is a series I created with Aric McKeown (who also writes, animates, and voices the show) called BABY IN A TIRE, about a mystery-solving millionaire playboy baby who lives in a tire. You can check out the opening theme/trailer here. The other is called MEGA PENGUIN, and it's about a vigilante waterfowl and the twentysomething guy he raised from infancy to become his sidekick. It was created by myself and my brother Bobby (we do the voices, too), and the brilliant Logan Whitehurst did an insanely great, extremely catchy theme song for it. There's no finished animation to show from MP yet (we're working on it!) but go download the song, tell your friends, and build some buzz for its eventual debut at Keentoons.com!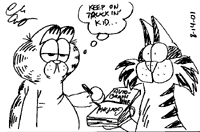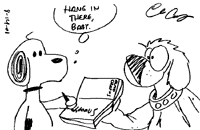 THE HAPS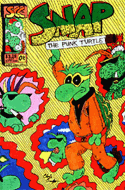 STRIP NUMBER 900 HAPPENED TODAY
August 17, 2001
Today was SUPEROSITY Comic Strip #900. Could you tell? Did it have a nine-hundredy vibe to it? Explosions always signify an event pretty well, I think. But shouldn't we be doing something else to celebrate this amazing numerical event?
I'm so glad you asked! Keenspot is now offering 12-issue subscriptions to the SUPEROSITY comic book, and for a limited time, those who subscribe to 12 issues will receive the following extra-special extras: 1.) An original, hand-drawn sketch by yours truly (like the two samples shown above). 2.) A set of 11 trading cards (see samples below) produced all the way back in 1994 for the San Diego Comic-Con that includes SUPEROSITY characters that have yet to appear in the strip! 3.) An additional autographed 40-page comic book from 1994 called SNAP THE PUNK TURTLE #0 1/2 (see cover above). It was my first professional comic book work (at the age of 17) and it has an original story that actually begins with Snap dying of old age! It also introduces Snap's nephew, Victor, and his future kingdom of Snapalla.



And of course, you'll receive twelve neato torpedo issues of the SUPEROSITY comic book, which is packed with strips, commentary by me on every page, and original SUPEROSITY stories by me and the finest cartoonists around (#2's even got a story by ELF LIFE's Carson Fire!)
You may be thinking "Hey, I ordered the 6-issue subscription months ago, but I want all that cool extra stuff!" No problem. You can order a 6-Issue Subscription Extension right now, and we'll send you all the extras. CLICK HERE TO SUBSCRIBE!
And so ends the sales pitch! *whew* Whether you've subscribed to the comic book or not, I just want to say thank you. Entertaining you extremely intelligent, witty folks for 900 days has truly been an honor, and the fact that so many of you have been supportive of my offline projects is just icing on the cake. Thanks, everybody. Enjoy the next 900...

THE WORLD ADORES ME
August 15, 2001
There's a Boardy cameo in what appears to be the very last Shinkutokimekisempukaku strip. Also, Superositite Caleb Ricks spent eight grueling hours putting together a fun collage of his favorite SUPEROSITY moments. Check 'em out!
Have you read the SUPEROSITY comic book yet? If so, you can add your adoring review to the pile on our Board!
BANG! POW! KAZOOM! SALON.COM TALKS WEBCOMICS!
August 9, 2001
They quoted me in a SALON.com article about webcomics today, plus a bunch of other Keenspot comics were mentioned. Very keen.
If you've come here from the article, please do yourself a favor and stick around awhile. I know this strip can be strange and frightening at first, but the brave few who read enough of the archives tend to actually grow to love it! Seriously! Thank you for your time.
MSN E-MAIL IS KILLING MY BRAIN!
July 27, 2001
My main E-Mail address, crosbycomics@email.msn.com, is bouncing back just about everything sent to it and claiming the disk is full. The kind people at MSN have been no help in fixing this problem, sadly. Until it clears up, please send me E-Mail at superosity@hotmail.com. This address appears to work just fine, but let me know if it doesn't. Thank you kindly.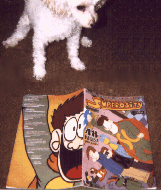 SUPEROSITY #1 ON SALE NOW!
July 25, 2001
Today's the day that comic book stores all over the world should be getting copies of SUPEROSITY #1, the first-ever SUPEROSITY comic book! The first issue of this monthly series is a keentastic 48-page comic book packed with the first 12 weeks of strips (with commentary on every single strip by yours truly), a 5-page comic story by Jeff Rowland in which Chris battles Brock in a stunning Virtual Reality enviroment in order to keep his job, a hilarious 2-page story by Aric McKeown about Chris taking in a hobo who Snap suspects of being a thief, and a mind-blowing 2-page report by Bobby Crosby (the real Bobby!) that he calls "The Origin of Superosity."
How can you miss this book? Don't answer that, just order it now! Get a subscription and save 45 cents an issue! (For those of you who've ordered the book already, your copies will be shipping out this week.)

MORE FROM THE BRIGHTER SIDE...
July 24, 2001
I forgot to mention that my tribute art to the 10th anniversary of Jeff Smith's excellent fantasy comic book BONE was published in this year's Comic-Con International: San Diego Souvenir Book. It's a big thick paperback collection of art and articles on a variety of themes related to each year's Con, and it's given out to every attendee (all 50,000+ of them). Keen stuff! Click here to see my hastily-drawn submission (I was in a hurry to meet the deadline and skipped pencilling first). It might not make sense if you haven't seen the cover of BONE #3.
THE COMIC-CON IS OVER...
July 23, 2001
On the morning of Wednesday, July 18th, I seriously injured my back as I lifted a particularly heavy box into the car that would be making the two-hour drive to San Diego, California for Comic-Con later that day. It was hurt so bad that I could barely walk, only with extreme pain, and even sitting upright in a chair hurt badly (something that has kept me from this computer for most of the past 5 days).
Depressingly, I had to skip the first day. My mom (Keenspot CFO Teri Crosby) and dad (Keenspot co-owner Frank Crosby) left without me, as the Keenspot booth needed setting up and someone running it whether I was there or not.
Thursday was the day I most wanted to be there. Comic-Con actually gave Keenspot our own 90-minute panel discussion on Thursday at 4pm, and as Co-CEO of Keenspot I was scheduled to be one of the seven panelists. This would've been the first Comic-Con panel I've ever been on, and I was very excited about it.
As you could've probably guessed by my use of the words "would've been," I missed it. My back was just as bad on Thursday as it was Wednesday, making it nigh-impossible for me to attend. It was the same story on Friday, Saturday, and Sunday.
I missed the entire convention. The convention that was the largest gathering of webcomic cartoonists in history, a gathering that I helped to launch. The convention that saw the debut of my first Keenspot comic book (SUPEROSITY #1) and of Keenspot's comic book line. The convention that, apparently, had the highest attendance of any U.S. comic convention in history. I missed the WHOLE THING.
*sigh*
But I should look on the bright side...
By all accounts, Keenspot's Comic-Con debut went excellently. Despite my not being there to sign and sketch, we sold a surprisingly large number of SUPEROSITY #1s to Con attendees. It seems that everybody at the Keenspot booth did really well with sales. Plus, we learned a lot from the experience and I'm sure we'll do twice as better next year with our booth and organization.
Our Keenspot panel on Thursday was apparently the most well-attended in it's highly-competitive timeslot. I saw the videotape my dad made of it, and it was GREAT. Bizarre, but very keen to see a giant audience of fans and fellow cartoonists responding so well to the Keenspot group, applauding and hooting and laughing in all the right spots and asking some really good questions. All seven panelists did Keenspot proud, including SCHLOCK MERCENARY's Howard Tayler, who filled in for me expertly (thanks, Howard!). It went so well that I'm pretty sure they'll give us another panel in 2002.
I didn't get to meet anybody in person, but I did get to see and hear most of them in cool video messages they taped for me, and tons of cartoonists filled up a special sketchbook for me with funny, cool Get Well drawings. I even got a nice video message and sketch from someone that hadn't been getting along with me very well online (to say the least) and they somehow made me feel a lot better about that situation.
What may be the brightest side of all, for me at least, is that this experience has drilled even further into my head that I finally have to get into shape. My back didn't go out just because the box was heavy. It was because I'm extremely overweight and I'm not used to moving around at all, let alone carrying heavy boxes. Being overweight is a problem I've had all my life, and something I've been trying to fix all my life. After missing such a truly keen event, it's something I'm more determined than ever to fix. If it's humanly possible to be more determined than I was before, that is.
On August 1-4, 2002, I hope to see you in San Diego.


I'M OFF TO COMIC-CON!
July 18, 2001
Today's the day I head for Comic-Con International: San Diego, the largest comic convention in the U.S., to sign copies of SUPEROSITY #1 and meet my fellow Keenspotters! I'll be there today at 5:30pm and and will stay throughout the con, which ends Sunday. If you're going too, you'll be able to find me most of the time in Booth #3702, the Keenspot booth. I'll also be part of a 90-minute Keenspot panel discussion on Thursday at 4pm in Room 4! Whatever you do, do not miss this panel! Even for the competing Elvira panel, no matter how tempting!
For those of you staying on the home front, new comics will keep running daily (as always!) while I'm gone, thanks to the magic of Keenspot's AutoKeen updating system (and me actually getting almost a week ahead on drawing). Have fun while I'm away!
MATT FREWER IS MAX HEADROOM
July 9, 2001
Not old enough to remember '80s icon Max Headroom? Get informed at this site.
REST IN PEACE
July 7, 2001
Y2K-costumed Chris showed up dead in Friday's JAPANESE BEETLE along with a gaggle of other still-living legendary heroes. Identify them all and win a shiny new dollar from JB co-creator Dave "The Knave" White!
IDIOT IN A BANDIT'S WORLD
June 25, 2001
Anybody catch Chris in Friday's BRUNO THE BANDIT? That was neato keen.
SOME REASONS TO SUBSCRIBE TO MY COMIC BOOK
June 11, 2001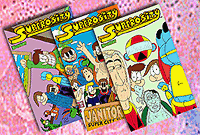 Heya, Superositites! Last Wednesday I received the pre-orders for the first issue of the SUPEROSITY comic book from our main distributor, and they were WAY better than I expected. For many comic book creators I'm sure the same orders would be extremely depressing, but they're the best I've ever gotten for non-parody comic books I've written and drawn, and along with direct orders and convention sales, they should ensure the profitability of the comic. So I am quite happy!
SUPEROSITY #1 is being prepared for the printer as we speak, and it should be in stores on Wednesday, July 11. Direct orders (i.e. comics ordered by a fan and sent directly to Keenspot), which we make the most money on, have been promising but not great. If you haven't subscribed to the SUPEROSITY comic book yet, I'm offering these reasons why I think you should.
* Some cartoonists charge $20 or more for a character sketch alone. If you subscribe to 6-issues of the SUPEROSITY comic book for just $15, not only will you save 45 cents an issue off the cover price, I will draw a personalized character sketch for you! Think about this... for 15 measly bucks, not only do you get 6 big comic books (autographed if you request it) packed with tons of fun stuff, you also get a personalized character sketch. For $15. That's not too bad, is it?
* Haven't taken the time to sit down and read the archives, but you want to? Maybe you've just discovered this strip today from the Keenspot Newsbox. This could be a very cool way to experience the archives, what with the commentary and all, and the fact that you don't have to stare at a monitor for hours and hours until your eyes bleed.
* Do you ever try to tell your friends about how great SUPEROSITY is, but they look at you stone-faced or try to call the police on you? Some people just can't understand things that aren't printed on paper, or they don't want to take the time to read more than a strip or two (which they probably get confused by so they run away). If you buy the comic book, read it yourself, then pass it on to a friend or two so they become Superositites themselves, you would be doing the world a public sevice.
* If you happen to be one of the rare, special people that believe that I'm a talented cartoonist and that my star will rise in time (maybe I'll get an animated cartoon on TV eventually!), then you should also believe that the first SUPEROSITY comic books will be a very valuable commodity in the future, because there ain't gonna be a whole lot of copies available. Jeff Smith, the self-published creator of the epic and brilliant independent comic book BONE, printed about 3,000 copies of his #1 issue when he first published it about 10 years ago. The first printing of BONE #1 (it was later reprinted numerous times) is worth nearly a hundred dollars today, or about 30 times the cover price. We are only printing about 1,000 copies of SUPEROSITY #1. Could you actually MAKE money by buying my comic book? Who knows? But if you think so, that's an extra perk.

* Instead of buying the comic book, are you waiting for the big 128-page book collection that Plan 9 Publishing is putting out later this year? Well, that's a good reason (because it's gonna be a very cool book), but I think the extra added features of the comic book should give you more than enough reason to buy both. You could always buy the comic book to read and then give as gifts to friends (or even SELL to friends!), and you could buy the book collection to keep for yourself in your home library on a shelf. That way, everybody's happy!
* If you're expecting to walk into any comic store and buy this, you will probably be out of luck. Only a tiny tiny tiny percentage of comic book stores ordered issue #1, and those who did probably didn't order more than one or two copies. By subscribing, you ensure that you won't miss an issue.
* The comic book itself! For example, Issue #1 is a 48-page giant with 30 pages of strips (11 weeks), with commentary by yours truly on each page. It features some of the most classic storylines (Bobby trying to make Marlene popular, Chris getting a job at Cool-Ass, Snap becoming a star on "W6," Bobby trying to murder but then joining pop group Hanson), all run in linear order. To fill out the book there's 18 pages of new and never-before-seen comics, including a disturbing new SUPEROSITY story written by THE REAL Bobby (my little brother, on whom Bobby is based, Bobby Crosby), a comic story written and drawn by Jeff Rowland (cartoonist of WHEN I GROW UP), a look at the online strip I did before SUPEROSITY called SNAP THE PUNK TURTLE, and tons of other stuff. This is not just old strips printed on dead trees, there is literally new stuff on every single page. If you're at all a fan of SUPEROSITY, or even if you're just interested in cartooning, you should love this comic. Hopefully.
Okay, that's all I can think of this late at night. If it's convinced you, hooray! If not, no problem, I love you anyway. Those convinced can subscribe to the comic book here (now including those wonderful people in foriegn lands!). SUBSCRIBE TODAY!
BOBBY NOT EVIL ENOUGH? THE PEARL HARBOR BOMBING DIDN'T HAPPEN IN 1912? YES AND YES!
May 30, 2001
Bobby made a fun cameo appearance in Jeff Darlington's GENERAL PROTECTION FAULT on Monday. alongside other webcomic characters that could be a little bit nicer if they tried.
Also, there's a thought-provoking and extremely hilarious debate raging on the Message Board over my latest controversial Sunday strip, where I shat on the grave of the people that died in Hitler's tragic bombing of Pearl Harbor in 1912. I likes to be controversial! It makes me feel like one of the writers of "Murphy Brown" in 1992. In other words, it makes me feel like I'm making lots of money, I know Faith Ford and the guy who plays "Miles" on a first-name basis, and Dan Quayle yells at me for making Candace Burgen pregnant with Scott Backula's baby. Hooray for controversy!
By the way, for those of you too young to remember 1992, that really happened! The Vice President of the United States got mad because a fictional character on a TV show got pregnant! Seriously! I can't wait until VP Cheney goes bonkers over something mundane he sees on network TV.
CONFUSED BY THE KAELIN?
May 20, 2001
If Sunday's strip makes no sense to you, read (or re-read) "Stealing From O.J." If it still makes no sense, it means I'm a bad, bad cartoonist. ("Bad" means "radical," right?)
TODAY IS STRIP NUMBER 800, AND BOBBY IS... A MURDERER?
May 9, 2001
800 strips have lead to this gasp-inducing turn in the SUPEROSITY universe! Bobby seemed to have no problem with planning Hanson's death, but would he really murder an innocent butler in cold blood? Express your opinion in the poll (to the right) and the Board.

FAN ART, eBAY, AND STRIP #800
May 7, 2001
Philip D. McCorriston Jr. of NERD ALERT! sent in some nice fan art, which you can view by clicking on Chris's smiling mug to the right. Thanks for being a fan and being able to draw things, Philip!
I just noticed that someone on eBay is selling two comic book parodies of SOUTH PARK that I wrote (with little brother Bobby) and drew for Blatant Comics in the late 1990s. If you're interested in that sort of thing, go bid on them before they're gone. I think they're really very funny, especially the second one, SLOTH PARK: SUMOBALL (which was a parody of "The Mighty Ducks" and "BASEketball" as well as SOUTH PARK).
In other news, SUPEROSITY comic strip #800 is in two days! Yowsa, that is one big round number. Per the usual, I will do little to nothing special to commemorate the event. Maybe when #1,000 rolls around...
GOT NO SEX ORGANS? THIS IS YOUR STRIP!
May 4, 2001
Do 26% of my readership actually have no genitals to speak of, or do people lie in polls? Either way, it's disturbing. There are way more Superositites with a lack of sex organs than there are female Superositites (11%). Is my strip really so manly that only few women dare to tread near it? Or do ladies just like to say that they have no genitals? You crazy gals!
Polls bring up more questions than they do answers. Those crazy polls!
FUN CAMEO AND FUN WALLPAPER!
April 30, 2001
Chris had a fun cameo in Friday's DAN & ED SUPER-FUN ADVENTURE HOUR by Ben "Doc MacDougal" Woo and Josh "Sven Svenson" Lynch. Go check it out! Also, in celebration of the upcoming SUPEROSITY comic book, I've created this fun 600x800 desktop wallpaper using art from the cover of issue #1. Download it and right-click "Set as Wallpaper" to make it your new desktop wallpaper. I faded the art a bit so that you won't have trouble seeing your icons and stuff in front of the art (I've noticed a lot of wallpapers have this problem). If you want it in additional sizes, let me know on the Board or by E-Mail.
Also, we're still working out how international Superositites can order the comic book. I'll let you know more soon, thanks for your patience!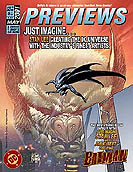 PRE-ORDER SUPEROSITY #1 NOW!
April 25, 2001
SUPEROSITY: THE COMIC BOOK is now closer to reality! Comic shop retailers are now able to order SUPEROSITY #1 from Diamond Comics Distributors, the largest distributor of U.S. comics in the world, and it has been listed in their July 2001 PREVIEWS catalog, which goes on sale today.
If you can't convince your local comic shop retailer to order it, or if you're someone who would never dare think of ever stepping foot into a comic book shop, you can pre-order SUPEROSITY #1 or a 6-issue subscription to the comic book (save 45 cents an issue!) using good ol' PAYPAL. If you pre-order through PayPal, I'll include a free original character sketch with your order. How can you beat that?
For more information on the comic book, click here.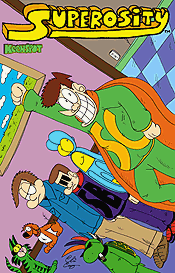 SUPEROSITY: THE COMIC BOOK!
April 23, 2001
This is the exciting announcement. Are you properly excited? Yes? Don't get too excited, now. It's not an incredibly exciting announcement, but I still consider it to be quite exciting.
As you could've guessed from the subject line of this thing, a monthly SUPEROSITY comic book series launches this July! You can see the cover of issue #1 to the right of this text. (Click on it for a much larger version.) Yes, Keenspot is launching a print comic book division, and just as SUPEROSITY was the first official Keenspot comic strip, SUPEROSITY: THE COMIC BOOK is the first monthly series from Keenspot Comics. Which makes quite a bit of sense, considering I'm one of the founders of Keenspot. :)
I'll have much more information about the comic book and how to order it on Wednesday, when Keenspot formally announces the Keenspot Comics line and the PREVIEWS catalog featuring the first two titles arrives in comic book stores. I hope you were excited by this exciting, important announcement! If not, I apologize. See you this Wednesday! I especially hope to see you Keenspot Newsbox folks again then...
IMPORTANT ANNOUNCEMENT!
April 23, 2001
Be here later today for an important announcement!
WE'VE GOT COMICS SIGN!
April 18, 2001
I meant to do something for the MYSTERY SCIENCE THEATER 3000 tribute event MST3Keen last weekend, but I forgot to, and then I couldn't find the time to (I'm working on a few very keen side projects right now I'll be telling you about soon). It appears quite a few other participants did the same as absent-minded old me, but the ones who did remember came up with some pretty neat stuff. Any Superositites with nothing better to do care to give some of my cheesiest strips the Joel/Mike and the bots treatment? Post them on the Message Board and we'll all have a jolly good laugh! Croooooowwww!

WEIRDNESS AND SUCH
March 28, 2001
For those of you who came to superosity.com yesterday and saw a weird page about baseball, you didn't go temporarily insane. Just a little glitch on the Keenspot servers. It should be all better now.
PNGs ARE THE FUTURE, AND THE FUTURE IS NOW
March 22, 2001
At the urging of fellow Keenspotter Christopher Wright and with the help of technical wizard and fellow Keenspot Co-CEO Darren Bleuel, my entire comic archive has been converted from GIF to PNG format. Why? Well, the coolest part about it for me is that the files are 18% smaller overall without a drop in quality, which means less bandwidth gobbling and faster loading time, but there's also this reason.
HAPPY BIRTHDAY, MOM!
March 17, 2001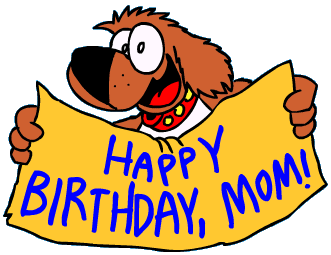 I love you, mom! Send the greatest mom/SUPEROSITY colorist in the world your birthday greetings at TeriCrosby@aol.com.
MARCH CAMEO ALERT!
March 9, 2001
There was a very subtle tribute to my little strip in March 8th's BAKED BABIES by Andy Brown (read this if you can't find it), and a not-so-subtle but just as appreciated tribute in March 7th's SILLY CONE V by Brandon Sonderegger. Thanks, guys!

THE RADIO BUTTON IS HERE
March 2, 2001
Someone on the Board wondered where the link to the Superosity Radio station is, so I've put it back on the page. I planned to keep the link off the homepage until I'd massively updated the station's playlist, but I must bow to listener demand! If you have a suggestion, let me know on the Superosity Board.

ACHIEVING SUPEROSITY FOR TWO YEARS STRAIGHT!
March 1, 2001
Yes, SUPEROSITY is two years and 732 strips old today. Can you believe I've been doing this every single day for two years? I can, but I'm crazy.
I've fancified the website to commemorate the occasion. Hooray for fancification! As you can see, it's a beautiful shade of Boardy Blue. I've still got a lot of stuff to do on this crazy re-design, but I've had my hands full lately, so this will be just a start. It'll get better. As will the strip, hopefully! Year Three will be keen supreme to the extreme, and so on. Hoy hoy hoy!
THE SUPERSTORE CLOSES ON MARCH 1
February 23, 2001


For those of you who want your own SUPEROSITY T-Shirt but have decided not to buy one yet, you have six days to do so. I'm closing the Superosity Superstore on March 1st (coincidentally, that's also the 2nd anniversary of the strip), when CafePress.com (my merchandise supplier) will be raising the price of their products to a level I think is way too high. As soon as Keenspot launches their merchandise e-shop, the Superstore will be back and better than ever, but that might not be for awhile (and not all of the current designs, if any, will be available). Don't delay, ACT NOW!
By the way, thank you to everyone who's donated money to my Amazon Honor System thingy. That was very nice of you. Maybe we will get to our crazy million dollar goal! But even if we don't, we're still radical and tubular. Rock on, Superositites!

FUN FAN ART FROM YAMCHA HIBIKI
February 21, 2001
Check out this cool fan art I got from Yamcha Hibiki of Shinkutokimekisempukaku and Sub-Culture. It's of everybody's favorite crazy couple, Chris and Arcadia. Thanks, Yamcha!
THAT AMAZON HONOR SYSTEM THINGY AND A PANDA WHO IS A PIG
February 18, 2001
Today I added to the homepage that spooky Amazon.com Honor System box that knows your name if you've shopped at Amazon.com before and freaks you out. I just want to see what happens with it. I've set my money-raising goal at $1 million, and if I don't raise that, I'll consider any sort of micropayment system a complete failure. Bored billionaires, where are you?
Also, I've added a link to PigPanda.com (link art courtesy of the amazingly talented Mike Leffel). A week or so I stopped linking to BigPanda.net because I'm just not into Bryan McNett's frontpage preaching about how web advertising sucks ass and is dead and so on (it make me want to go sleep sleep), but I can't resist linking to PigPanda. Below the link graphic, you'll find a list of my very favorite webcomics. Visit them, and you'll help their ranking on PigPanda. Also, you'll be made very happy by how good the comics are. And that makes everybody happy.
SOME FAN MAIL FROM A FINANCIAL ANALYST
February 16, 2001
Way back when I started SUPEROSITY almost two years ago, I planned to showcase fan mail I've received here at "The Haps." But I haven't really done that for some reason, even though I have actually received some fan mail. Why not? I think it's because I'm a complete and total idiot. Whatever the case, I got a nice one yesterday, so here it is!
"okay, this storyline rocks (as I am amazed by the reference to Chris and Co., something I forgot about long. It was quite an enjoyment to go back and read about its beginnings, but it was so funny, it has destroyed my logical thought,speech,writing centers of my brain, as they repeat over and over again, "and that's when i ran in one direction for an hour", but i digress), keep it up dude!"
Phil Ross
Financial Analyst
LaSalle Investment Management
A Financial Analyst reads my strip! Neat. Whether or not you yourself are a Financial Analyst, you can send me your fan mail (or non-fan mail) at crosbycomics@email.msn.com.
I'M IN THE RALEIGH NEWS & OBSERVER!
February 6, 2001
Yes, I'm a media darling. The Raleigh, N.C. News and Observer did an article on Keenspot yesterday that mentioned me (as well as my mom, who got her name misspelled "Terri" for the third time out of three articles so far). All these articles can be found in the Keenspot Pressbox.
I'M IN THE DETROIT FREE PRESS!
February 2, 2001
There's an article on Keenspot, SUPEROSITY, and webcomics in the Detroit Free Press today. Weird, eh?
Also, Chris and Boardy recently appeared in BURNT DOG RADIO, where they were contracted to create this website for the fictional business.

FAN ART FROM ENGLAND!
January 16, 2001
Joseph B. England of ZEBRA GIRL sent me some very neat fan art. Go see it!
CROSBY GOIN' KRAZY
January 12, 2001
I wrote and drew today's KRAZY LARRY. I think it was pretty funny, but it's funnier if you're a fan of KRAZY LARRY, so read the first strip and get hooked on it right now. Also, Chris and Arcadia guest-starred in yesterday's JOE AVERAGE, which you should also immediately get hooked on.
NEW MILLENIUM II: BACK IN THE HABIT
January 6, 2001
Happy 2001, Superositites! A couple things of interest: I did a very weird EVERYTHING JAKE strip for my pal Mike Rosenzweig. Chris and Boardy guest-starred in THE ADVENTURES OF RONNIE RACCOON. That's about it.
---