And yes, I know Jimmy Kimmel does a voice in it. I trust he was unaware of the EVIL involved in the production. He is one of the GOOD celebrities.
QUESTION OF THE WHATEVER
November 15, 2003
What is your favorite SUPEROSITY storyline and/or SUPEROSITY strip?
ALSO: Wanna buy some weird and possibly offensive to you T-Shirts I made that have almost nothing to do with SUPEROSITY? You can if you wanna.
JIMMY KIMMEL IS ONE OF THE GOOD CELEBRITIES
October 31, 2003
I've mocked a lot of celebrities in my little strip, but never has one bothered to respond to said mocking... UNTIL NOW! This recently popped into my E-Mail box...
We saw and loved the cartoons –
Really funny, though I'll have to explain it my Uncle at least eight more times before he understands.
Thanks
Jimmy Kimmel
Ps – Sal is upstairs crapping in faces
YOWSA. Jimmy Kimmel is awesome. I may soon be instituting a policy of only letting people read my strip if they also watch JIMMY KIMMEL LIVE every night.
I believe I can now realistically dream of a day when I will get words of praise from Corey Feldman, Brian "Kato" Kaelin, Fisher Stevens... maybe even Paul Fusco!
AN ANIMATED PUPKIN CARTOON!
October 27, 2003
Somewhat miraculously, Bobby has produced a 4+ minute PUPKIN cartoon, and it's pretty much the most awesome Flash cartoon ever. It may be the product of 16 Jewish animators, but Bobby wrote it and did all the voice work, and it's brilliant. Go WATCH IT NOW, and give it a really high score so Bobby will be inspired to produce further episodes. Maybe even the MOVIE I foolishly fooled you folks with so long ago will come to fruition! WATCH!
YOU FAILED ME, CALIFORNIA.
October 8, 2003
If Arnold helps Bush steal California, it's all your fault. Jerks.
LIVE IN CALIFORNIA? GO VOTE "NO" ON THE RECALL AND "YES" ON ANYONE BUT A REPUBLICAN RIGHT NOW!
October 7, 2003
CRAZIEST THING EVER SAID: "I know that the people of California can see through this trash politics. Let me tell you something, let me tell you something. A lot of those that you see in the stories is not true, but at the same time, I have to tell you that I always say, that wherever there is smoke, there is fire. That is true. So I want to say to you, yes, that I have behaved badly sometimes. Yes, it is true that I was on rowdy movie sets and I have done things that were not right which I thought then was playful but now I recognize that I have offended people." -Arnold Schwarzenegger (Oct. 1, 2003)
Yowsa! He even allegedly sexually-assaulted TWO women on the "rowdy movie set" where TWINS was shot! Is Danny DeVito too scared to speak out?
IT'S MY 26TH BIRTHDAY TODAY...
September 15, 2003
Or IS IT?
Yes. Yes, it is.
I BEEN INTERVIEWED BY THE 'STACK!
September 2, 2003
Check out this neato interview with me at Comicstack.com, a great new website about comics and such.
Watch for something really awesome in this space very soon, by the way!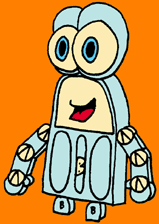 WANT A SUPEROSITY PLUSH TOY? HOW ABOUT A FANCY T-SHIRT? HOW ABOUT BOTH?
August 8, 2003
UPDATE 8/9/03: Lil' Board is the leading candidate for plush toy production! Have YOU voted yet?
I haven't done any merchanding for a long time, and I feel like a real non-sell out. That's no fun! I mentioned this many many moons ago, but there is the potential possibility that I can get a plush toy made of one of the SUPEROSITY characters. I think this would be keen supreme to the extreme. But I need your help! If you are at all interested in purchasing such a fun product, E-Mail me right now and tell me the following: 1.) What character we should make into a plush toy (Boardy? Lil' Boardy? Snap? Chris? Bobby? Moneybags? Joe Scarborough?). 2.) If you would purchase said plush toy for $9.95 or higher. 3.) If you would buy both the toy and a high-quality silk-screened SUPEROSITY T-Shirt in a combo pack for $19.95, and if so, what kind of shirt design you would want. E-Mail me NOW! If the toy gets made, I will send out one as a PRIZE randomly to one of the people who E-Mailed. (Or talk about it on the Board.)

PROGRESS
August 1, 2003
Haven't found the time to write a Comic-Con report yet (though I did write a bit about it here, and I'm featured in a great ROBOT STORIES photo-comic here), but I AM back on my never-ending battle to lose weight proper-like, so those interested in such a thing can start looking at my Weight Loss Progress thingy again.
Also, I'm focusing a ton on producing Flash animation. I wonder, do I have any readers who are really awesome at Flash? And if so, would they be interested in working with me on some cartoons? If so, please E-Mail me and I promise to consider replying!

YOWSA.
July 21, 2003
I spent all day Saturday at Comic-Con. It was CRAZY. More later...

I'M GOING TO COMIC-CON! REALLY!
July 18, 2003
I'm off to Comic-Con International: San Diego (for real this time!), so I may not be able to update the TV Tips over the weekend. Please forgive me. If you are at the con, come see me at booth #2203 (the Keenspot booth) and at the Keenspot panel on Saturday at 4:30pm in Room 7A. Wish me luck!

I DREW TODAY'S MAN-MAN, AND I AM WALKING A LOT
June 29, 2003
MAN-MAN was drawn by me today. Go check it out, won't you?

Oh, and don't worry about me, I'm doing all right, I think. I'm focusing on exercise at the moment to prepare for Comic-Con, and I'm planning to try The Hacker's Diet eventually, because many nice people have asked me to nicely. I don't think I'll ever go on Atkins again. Bleah. Sorry, Dr. Atkins. Still, I hope you are happy in heaven anyway. Love, Chris.

On an entirely different note, have any of you decided who you plan to support for President in 2004? If so, say so on the message board. I am still undecided. But it's never too early to think about it, especially this year!

SUPEROSITY IS THE FIRST WEBCOMIC FOR MEN! (AND LADIES.)
May 30, 2003
During the three-hour block last night of the testosterone-fest that is STAR TREK: THE NEXT GENERATION on The New TNN, I was deluged with promotional spots announcing that the network is changing it's name to SPIKE TV (the first network for men!) and that I should write to them and say what I think should be on The New New TNN. Obviously, I did as the TV requested. And what better new show for the first network for men than an animated adaptation of the first WEBCOMIC for men, my own SUPEROSITY? I urge you to kindly but forcefully request such a thing, as I just did. No doubt the flood of requests from my tens of dozens of fans will convince the men's men at SPIKE TV to greenlight SUPEROSITY: THE ANIMATED SERIES FOR MEN, and I'll join the ranks of men like Stan Lee, John K, and Kelsey Grammer! MEN, UNITE!

I DREW TODAY'S SCARY-GO-ROUND
May 29, 2003
SCARY-GO-ROUND is a comical strip by John Allison that is very pretty to look at and features hilariously original rapid-fire dialogue that I only wish I could be smart enough to think up so consistently (or at all!). Mr. Allison invited me to draw a guest strip for him, and I gladly did. You can view my attempted masterwork here. (Reading the full SGR archive before reading my guest strip would help your enjoyment of said guest strip.)

I HAVE ANOTHER E-MAIL ADDRESS
May 28, 2003
Hotmail is no good a lot, so you might wanna E-Mail me at superosity@keenspot.com from now on if you plan to E-Mail me ever. Maybe you should E-Mail me RIGHT NOW for fun, and to test it out. I probably will not reply because I am horrible.

SLOWEST JERK ALIVE
May 25, 2003
I'm off my fast, and I blame Jim Carrey. I went to see BRUCE ALMIGHTY (as did a lot of others, it apparently made something like $88 million this weekend) at the drive-in, and it was such a great concept executed so incredibly uninventively to the EXTREME that a trip to the snack bar was 100% NECCESARY. I am no Ghandi. Maybe if I was fasting FOR something, like the well being of our dear President Bush, it might've kept me on course. Oh well.

FASTEST JERK ALIVE
May 24, 2003
I'm gonna try to go on a three-day fast (i.e. no food, just liquids) starting today. I feel like a real jerk wasting like seven months with no weight loss progress. If I can manage to go cold turkey on ALL foods for three days (something I've never even done for ONE day), maybe it'll gimme a jump start or something. More on this tommorow.

FOR YOUR CONSIDERATION.
May 16, 2003
Webcartoonists voting in the WCCA: please consider SUPEROSITY for nomination in the award categories you believe it deserves. I like winning things. Thank you.

ALL HOPE IS NOT LOST. I HOPE.
April 12, 2003
I'm back on the scale.

ME BAD MAN
March 13, 2003
As is obvious to those who watch my weight loss progress, I fell off the wagon AGAIN, ALREADY. I'm pathetic, yes. I just have a bunch of important deadlines to meet this week and that combined with other annoying things just made me too nutso to choke down another carb-free meal. Ugh. I'm depressed and stressed-out. Wah.

EIGHT LBS. DOWN IN ONE DAY
March 4, 2003
I was hesitant to put up today's weight loss because it was CRAZY. 8 lbs. lost in one day. But it's true! I guess the Atkins Induction Phase is very effective when you do it correctly (as opposed to slathering barbeque sauce that's full of carbs over everything). But if it keeps up I'll kinda feel like that guy in THINNER.

3 LBS. DOWN, AND I GOT SOME PANTS MONEY, BUT IS ORANGE BAD?
March 2, 2003
Thanks to everybody who donated to the NEW PANTS FUND so far. I'm gonna send you guys a new wallpaper design or something as a reward. Maybe a drawing of Chris wearing shiny new pants.

I got a complaint from somebody who didn't like the new orange-colored homepage. Is it a problem for anybody else? I kinda like it, personally. It's the color of Chris's cape, AND it reminds people of the gone-but-never-forgotten best new comic strip of 2002, PUPKIN. But I'm willing to change it to another color if it's burning people's eyes or something.

GOOD NEWS, BAD NEWS: SUPEROSITY IS FOUR YEARS OLD, AND I GAINED 17 LBS. SINCE MY LAST WEIGH-IN.
March 1, 2003
Before I get into my current weight situation, which I feel really bad about but am still ever-hopeful for, I wanna say how crazy it feels that I've been doing this strip for FOUR WHOLE YEARS. As unoriginal a statement as this is, it actually seems like just yesterday I uploaded the first one. Heck, it seems like just yesterday that I got the idea to do a daily webcomic at all, not yet even having a title to go along with it yet.

Now I'm in YEAR FIVE. Early on, I thought maybe I would do the strip for about five years, then end the strip (the format of which I'm starting to find kind of confining) and move the characters over to an ANIMATED TV SERIES. That's still my goal, but I've only got about a year to get a TV series deal now. Anybody want to help me get one somehow? Because that would be awesome.

So, this may be the last year, and it may not be. I think either I'll do it for five years or I'll do it for ten. Or possibly fifty. We'll see. Either way, thanks for reading it. You are a special breed of person and you should be rewarded someday with something other than daily access to THE FUNNIEST COMIC STRIP ON THE INTERNET. (Hey, I deserve to be less than modest today because I just went FOUR YEARS WITHOUT MISSING A DAY. Has any other webcomic done that? Probably. Oh well. I'm still special.)

Anyway, onto the thing many of you are most interested in right now, my continuing weight drama. I stopped weighing myself on around February 15th, telling myself that I would just start weighing weekly like a lot of people say I should instead of daily. I wasn't really on a diet at the time, I was just maintaining my current weight, and weighing every day just depressed me. Obviously, I DIDN'T weigh-in weekly after that (I put an "I'LL START WEIGHING AGAIN SOON AND BE GOOD I PROMISE BLAH BLAH" note in place of the current weigh date). Anyway, I went back on the scale today, and I've gained 17 lbs. in those two weeks. I'm 509 lbs. now.

But that's not as bad as it sounds. That's primarily WATER WEIGHT. If I put my mind to it, which I am confident I can (though I've been confident before), I can get back down to 492 in less than a WEEK and start losing real weight again. And If I get off the diet, I need to get back on IMMEDIATELY. That's my biggest problem, I take forever to get back on a diet after I slip. But you should know that by now. Whatever the case, I really need to do this. I got things to do.

So I'm back on track yet yet again again now. Maybe that March 1st magic will rub off on me and the consistency fairy will wave her magic wand over my head, like she did exactly four years ago when a little comic strip called SUPEROSITY made its debut on a little thing called the World Wide Web. I hope so. Wouldn't that be poetic, or something?

Oh, one other thing: I NEED PANTS. I only have one pair of pants that fit at the moment, and it has a big hole in it. That doesn't matter very much right now, because I don't go anywhere or do anything, but if I'm gonna lose weight I'm gonna need to buy some new pants. Unfortunately, I'm flat broke, but if you want to send me some money through PayPal I'll put it into a NEW PANTS FUND, and I'll spend it on pants (and maybe other clothing if there's enough money) when the time comes. If I don't lose a sufficient amount of weight (minimum 75 lbs.), I'll donate it to a worthy charity. So either way, it's all good. Send money to the NEW PANTS FUND right here. Thanks. I love you.

TOMMOROW.
February 28, 2003
SUPEROSITY turns 4 years old on March 1st, 2003 (ushering in Year Five). More on that tommorow.

I'M ON THE PULSE. NO, NOT THE FOX NEWS ONE. THE GOOD ONE.
February 19, 2003
There's a pretty keen interview with me right here.

WHA HOPPEN?
February 11, 2003
Okay, I screwed up. There I was, doing good on Atkins, when suddenly I weigh in and I've only lost a pound. Now, that would normally be just fine, but a nearly 500 lb. guy on the Induction phase of the Atkins diet is supposed to lose more than that, at least that's what I'm told. I weigh again the next day, and I've lost ZERO pounds. What's up? Turns out there is a shockingly high amount of carbs in the barbeque sauce that I had been eating with my baby back ribs, and that's what slowed my weight loss to a stop. The sauce slipped by me and Induction was ruined. Wah.

I'm not sure yet if I'm going to go back on Atkins (which I was getting pretty tired of, to tell the truth) or try something like Weight Watchers, but fear not, I'll be back on some sort of diet very quickly.

WHEN READERS REACT!
February 6, 2003
I got a bunch of E-Mail in response to yesterday's "back on track, and on ATKINS!" announcement (and I will try to respond to as many as possible as soon as I get caught up on E-Mail). While all of them were very supportive in my goal to lose weight, as should be expected by now from my cool, intelligent readers, there was a mixed response in regards to my decision to switch to the Atkins diet. About half of them fell into the "Atkins is the best diet EVER and everyone I know including myself went on it and lost 100 lbs!" camp, while the other half was more like "The Atkins Diet can be extremely harmful to your health and you could easily DIE and here's why!"

If you sent an E-Mail like either of those, I appreciate it muchly. As I said, I'm still skeptical about Atkins, and I am aware of the apparent dangers detailed in many spots of the web. I don't particularly trust either the pro-Atkins or the anti-Atkins people. To me, it's like doctors vs. doctors. Does an Atkins diet cause kidney problems, high cholesterol, evil yellow eyes, Truman Garrett-like breath, etc, or does it NOT? I dunno. Dr. Atkins and his ilk say no, while other doctors say yes. Which doctors do you believe?

What I DO know for sure is that the body does need essential nutrients to run smoothly, and a person cannot live by ham and eggs alone. The daily Atkins diet that I'm on includes a bowl of salad (something I normally have maybe once a YEAR), a vitamin, and the aforementioned precious, precious meat (and not a LOT of meat, either, probably less than I used to eat). Some people say this sort of diet robs me of important nutrients, but the only thing I'm NOT eating that I normally would is food with lots of carbs in them. Which means I'm being deprived of the essential, life-preserving nutrients found in things like french fries, hamburger buns, M&Ms, and Checkerboard Wafers. I can't imagine giving those sort of foods up is going to HARM me. And I'm eating MORE vegetables than I was before. So what's the problem?

But if my eyes suddenly start looking like Michael Jackson's at the scary end of the THRILLER video, I will most definitely stop. I'll switch to the Checkerboard Wafer diet at that point. Part of me is kind of rooting for that. The part that hates meat and LOVES wafery sugar things. It is growing every day.

Half a pound away from the "40 lbs. down" mark!

BACK IN THE HABIT AGAIN
February 5, 2003
I know I disappointed a lot of you by pretty much wasting the months of December and January almost entirely, as I definitely disappointed myself. I got lazy, I couldn't stick to 1,000 calories a day, and I slacked off in a way that didn't really gain me much weight but didn't lose me any, either. The good thing about that is, much like my 30+ lbs. lost, it's NEVER HAPPENED before. Once I stop a diet, I always gain it all back within DAYS. But here I am, still at over 30 lbs. lost. Compared to my past diet attempts, that is AWESOME. And I'm inspired to get back on track.

I lost another 4 lbs. yesterday, thanks in part to forgetting my old-style low-calorie (about 1,000 a day), kinda-low-fat diet plan. It never worked for me, and I should take a lesson from Wile E. Coyote and try something new. What I'm trying is an incredibly popular, new-school diet plan called Atkins, which was recommended to me by maybe HUNDREDS of readers after I announced my weight loss struggle. The gist of the diet is that apparently it's not FAT that's what is making people fat (CRAZY!), it's actually fat COMBINED with lots of carbohydrates (i.e. the hamburger isn't bad, it's the bun and the french fries that are evil). When you take the carbs out of your diet (or MOST of them, anyway), you lose weight, even if you're eating 2,000 calories a day of ham and eggs! Not that I'm eating that many calories or just eating ham and eggs, but yeah.

I'm still slightly skeptical about this diet, but I believe it to be safe. I'll write more about it tommorow. Wish me luck.

I'M BACK, AND I'M BRINGING 1997 WITH ME.
January 12, 2003
I was going through some old boxes recently and I found a notebook of mine from the '90s in which I wrote down my weight loss progress. In October 1997, I was 484 lbs. That's about 15 lbs less than I weigh right now. Let's see how fast I can get back down there.

Keep the E-Mail coming, it's helping. Thanks.

HAPPY TWENTY-O-THREE!
January 1, 2003
2003 is gonna rock newschool. For seriously.
---